Isaiah 43
October 15, 2011
A girl lay silently, trembling on her bed. Her damp hair lay spread across the pillow into which she pressed her face, stifling sobs. Her thoughts whirled confusedly, fast and frightening. What had she done to herself? What had she done to her life? All those wasted hours, wasted days, wasted dreams! What had happened to the great ambitions, the aspirations, the hopes? The long afternoons filled with daydreams and gossamer? Nothing was left of that, not now. Not anymore. All she had to live for were lies, deceit, and failure.

She used to dream of growing up when she was young. She used to long for the days when she could make her own choices. She used to long to be more than just another kid. And now she was. She had that! She had those days at last in her grasp. She was no longer a child; she made her own choices and took responsibility. But where had those choices brought her? What had the responsibility done to her? All she had now was the burden of wrong decisions, a thousand 'if-only's that rang again and again through her mind, causing more tears and regrets. If only she had chosen differently, if only she had given up, if only she had tried harder, if only she had cared! Fresh sobs tore her heart, and she pushed her face harder into the pillow as if to shove away the memories.

She used to think growing up made one so brave. She used to look at her parents, her babysitter, her big sister, and think how much courage they must have. Marvel that the monsters under the bed did not scare them. Wonder why growing up made the darkness less dark and the aloneness less frightening. She used to wish she could hurry up and get older, so she could be brave like them too. But now…now that she was finally as old as her admired babysitter had been, who had gone upstairs alone in the dark to chase away the monsters, now she realized that it wasn't true. Darkness was still just as dark, aloneness just as frightening. There were still the same monsters under the bed. All the fear was there, just as powerful as before.

She saw that her parents had fears too, and her dear sister. They weren't the pillars of unbending bravery and protection they had seemed. Waves of fear corroded their base, just as it washed over her now. The only difference, she realized, was that they had to hide it. Her parents had to be strong for their young children. Her sister had to be strong for her baby sister, for the girl herself. And now it was her own turn to have false courage. She had to be strong for her family, had to hide her fears so her young friends could look up to her. She had to continue to be the smiling carefree girl on the outside that everyone thought she was, while on the inside…she was a seething mass of doubt, confusion, hate, fear, and anxiety.

Oh, to be a small child again! To have no worries, no responsibilities, nothing but long days playing away the hours and loving arms to carry her to bed. She did not realize then how precious those days would become. They had slipped away slowly, almost without her noticing, until she realized that she was suddenly no longer a lighthearted child. She could make her own choices now. She was finally free. And oh, how she hated it. How she loathed it now!

The girl sat up slowly, reaching to turn on the small lamp beside her bed. The same lamp her baby fingers had so often caressed in the past. Her fingers found the switch in the dark. Shaking with cold and the tears that ran down her face, she picked up a small book from her dresser. The red leather cover was worn, shiny where her fingers had so often brushed it. Slowly she opened it, flipping to a page near the center. As she began to read, her tears fell faster, dampening the already tear-stained page and blurring the words before her eyes.

"Forget the former things; do not dwell on the past. See, I am doing a new thing! Now it springs up; do you not perceive it? I am making a way in the desert and streams in the wasteland," she whispered, running her finger along the words as she read them. Brushing away her tears, she shut the Bible carefully, leaving the bookmark in the chapter in Isaiah she had read from. She turned off the lamp and slowly lay back down against the pillows. As her burning eyes closed at last, she sighed. Her Maker said He was doing a new thing…He said He was making a way in the desert of her life and streams in the wasteland of her heart. She could not see it, could not perceive Him inside her…but she hoped maybe He was there. The regret, fear, pain, and broken dreams would not matter, though they still twisted inside her heart. She did not have to long for her childhood. She could grow up and grow older in peace. But she knew she would never forget herself as a young child. She would always remember…the pain of those memories would take a lifetime to dull.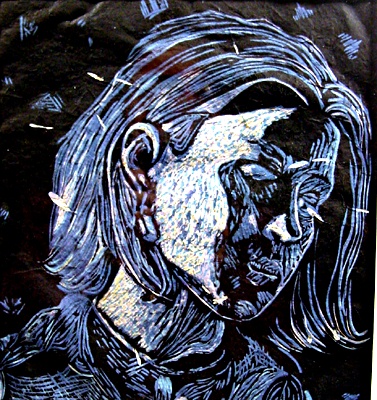 © Lauren P., Spartanburg, SC