Letter to My Ex
February 23, 2012
Dear Ex,

I don't understand why I dated you, exactly. I think the state I was in during those two months was akin to the state drunk people are in when they are drunk. I thought you were cool, because the only place I ever saw you was at kung fu, and you were cool there. But I soon came to realize that kung fu was the only place where you were ever cool. And little by little, your character began to reveal itself.

You asked me out over text. We never went on a real date. The only places we ever went were the park, my house, or your house – and once to the fair, although once there, you ditched me when you saw your friends. You loved Transformers and Adam Sandler movies. You were an outcast at school. You loved COD. You had an immature sense of humour, much like my ten-year-old brother's but with more that's-what-she-said jokes. Your classes were all Applied courses, except for math, so you definitely weren't very smart. You seemed to own only one pair of pants (track pants with holes in them) and I never saw you in a pair of jeans – ever. You said you had had other girlfriends. At first I doubted it. But then I realized that those girlfriends might have been like me.

You sweated puddles at kung fu – in fact, you had to bring a towel to wipe yourself down afterwards. You cracked all your knuckles, all the time, and could bend your neck at a really gross angle. You wore the absolute worst cologne I've ever smelled – or maybe it was B.O. It took you a month to kiss me, and even then, you asked ME to kiss YOU. That's how it always was: you'd always say, "Can I have a kiss?" I always felt like saying no.

Basically, breaking up with you and your disgusting knuckle-cracking was the best decision I ever made. But agreeing to go out with you was the worst.

Sincerely,
Me

P.S. Find someone else to go to the third Transformer's movie with you.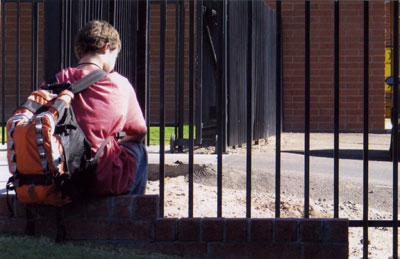 © Molly L., Phoenix, AZ