A Halo
May 17, 2012
An old woman stands in a black and white photograph, emanating light against the dark background, clothed in nothing but gray mist and a white sheet. The shimmering cloth, almost by untouched by shadow, outlines her elbows and hands as she holds it. She has let the sheet slip and bared the top of her chest.
Bones pop out along her neck and strain against her drooping skin, forming lumps at her shoulders. Two wrinkles frame her hooked nose and her mouth, with its colorless lips pressed in a line. Her eyes sink in their sockets, the lashes and brows vanishing into her skin, but she has closed those eyes, drawn eyelids like flower petals over them.
She could be sleeping. Her oblong face fades into her hair, the down-white ringlets drifting towards her shoulders in puffs. As she stands, her chin blurs into her neck, and gray mist clouds the silhouette of her hair, as if with strokes of oil paint. She has stood for eighty-six years, the photograph's description reads.
She is an old woman, and she is awake. She lets the camera look, and in its gaze she glows silver on the smooth metal like bones exposed by x-rays, radiant under the gallery lights. The mist gathers close around her body, floating above her head like a ghostly halo.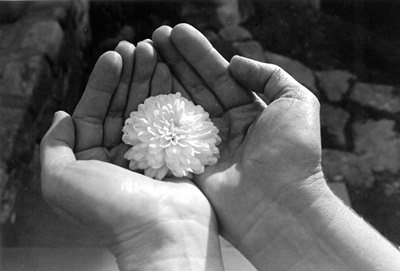 © Beth S., Marblehead, MA