To My Ex-Best Friend: 'I Will Let Go of You Sometime.'
December 21, 2012
I don't know why we all hang on to something we know we're better off letting go. It's like we're afraid to lose something we never even owned. I think we all should learn to let go. Because when we finally let go, usually something better (or worse) comes along. 'But there's always a risk': THAT'S what we think. We think that they could be everything for us, and we won't need anybody else. And because we love them, we assume that they love us too. But it's not always like that. Some times they don't love us or want us the way we do. Some times they don't love us at all. They want to be freed. They want us to let go of them. But they just can't say it on our faces. Why? Because maybe they're afraid to hurt us. Or maybe they're scared of us. Or maybe they just care about us. And that's the least they can do: care about us. But as I said, they want to be freed. So they eventually hurt us and leave. Maybe they're hurt too, maybe they're not. But we don't know. Because all we know is that we don't want to let go of them.

Dear Ex-Best Friend,
"I don't know what's up with you lately. And I don't wanna know, its okay. Now, I'm happy you've got new friends. Although I don't really like them but I'm happy. Happy for you. And, I'm not writing this to tell you to come back and apologize. Because I know you won't and you don't want to. And I'm not apologizing either. I will never ever apologize. Because it was not my fault. And I want you to know that. I've apologized to you even when it didn't make sense to me why I was doing it. But I did it, anyway. I used to apologized because I knew the value of our friendship. Not that, now I've forgotten it, but I'm just tired of it.
I heard that you're leaving the school next year. And before you get away, I want you to know that you're the one who never worked on our friendship even when there was still a chance. We both know that it's too late now. Okay…now the thing is…It was a misunderstanding. A misunderstanding I tried hard to clear out. But you wouldn't listen. I'm sad it didn't work out. And I just want you to know that before you leave this school. I was having a bad day. I didn't feel like talking to anybody. So I misbehaved, and let me tell you that I'm not sorry about it. Because I never expected THAT kind of response from you. because I thought you were my best friend...and would understand. But apparently, you didn't. You didn't listen to me even after I said sorry. I was surprised by your response. I thought you were better than Ava, because she's always been so mean to me, and you've not. But it turns out, you were just the opposite. If I'd know, I would never have done that. Never. You just got up and walked away. Walked away so easily without even asking me what was wrong. Because I was used to you talking to me politely whenever I fought with Ava. But Ava didn't mind. Ava never minds. It's completely smooth between me and Ava.
We haven't talked in months. I think it was the silliest topic on which we've had the biggest fight.
So, no. I'm not coming back. And you're not either. It looked like you wanted an excuse to get away from me. And yay! You were successful. We will never talk again, at least not like we used to. We are over, I know. It makes me feel sad when I think about it…But why do you hate me, Lexie? You don't have a reason to. Not anymore.
I tried my best. I really did. And if you hate still me, I'll stop. I'll never try again. But I will never forget you."
Thanks,
Addison.

We're not best friends now. Not even friends. And she's not in my school anymore. But I will always remember her. And I know, I will have to let go of her sometime. But letting go isn't about blocking memories or to ignore. It's about moving ahead in life. It's about growing up. Letting go is about having the courage to accept change and the strength to keep going. I will keep going… and at the same time, I will think about our memories we had together.

I will learn to let go of her sometime.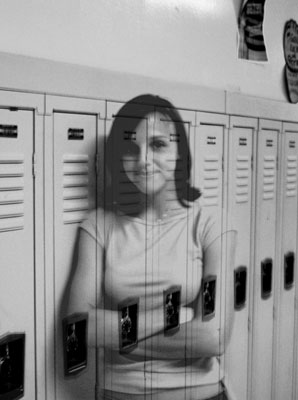 © Amy D., Troy, OH