Safety First
April 13, 2013
My sister and I were slipping into and out of consciousness in the back of the car; my mother and father exchanged witty repartee in the front seat; the cool October breeze wafted in from the open window in the back. These components made for an evening like any other, until my mother's usually jovial demeanor went pale with a single, 30-second phone call. She put down her cell phone and stared, mouth agape, at whatever news she was just told.

"Girls, your brother was in an accident."

It's unbelievable to think that those seven words would have such an impact on my life. After a long day of volunteering to shovel debris from Hurricane Wilma in October 2006, Aaron and his two friends took a trip to McDonald's for some much-deserved grub. Fumbling with the food bags in the back seat as the car turned onto a street intersection, Aaron had yet to put on his seatbelt; in a matter of seconds, his open-top Jeep was rammed into by a deaf mute who ran a red light. My brother was ejected from the top of the Jeep: injuries included spinal chord damage, a torn-off ear, four broken ribs, nerve damage in the trapezoid, temporary paralysis from the waist down, a broken scapula, a broken arm, and a C2 neck fracture that could have killed him instantly if it had occurred less than a centimeter higher.

Seeing Aaron, in whom I have always found a jovial spirit and role model, lying comatose and emaciated in that hospital bed will forever be etched in the back of my mind. The doctors predicted that the spinal chord swelling would leave him paralyzed and unable to ever walk again; defying this prognosis, Aaron muscled through his injuries in time to walk down the stage at his high school graduation. Despite the ultimately happy ending to this horrible accident, which I solely attribute to my brother's unbreakable spirit, it pains to me to think that the entire event could have been avoided by one thing: a seat belt.

This simple band would have kept him secure in his seat, and not sprawled out and helpless in the street. He would have been able to go home that night instead of being airlifted to the hospital for a 3-month stay. He would be able to lift his right arm above his head instead of dealing with permanent nerve damage. If Aaron had been wearing his seat belt when the Jeep was hit, he would have been able to walk away from the accident with a minor concussion at the very worst – his two friends, both wearing their seat belts, were left with nothing more than a few scratches and bumps.

I look back at Aaron's accident with sadness yet triumph because I am able to share the story's simple message to whoever will listen. Sometimes, the little things can and will save your life. Whether it involves putting on a seat belt or putting the phone down while driving, one moment could be the difference between a simple scratch or a C2 neck fracture.

Aaron's story should be more than enough to prove the age-old cliché: safety comes first.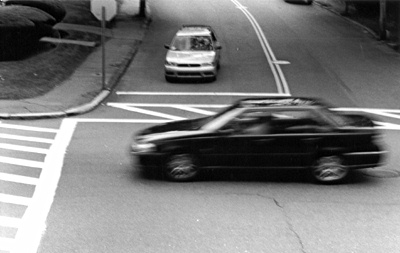 © Ed J., Marblehead, MA