Beautiful Tragedy
May 5, 2013
Quietly, I would watch them. Watch their feet floating across the ground. Her black dress flowing perfectly around her. She would squeal joyously as he held her close, feet leading expertly.

Quietly, I would dream. That that was me. A man with his arms around me. A beautiful black dress flying behind me like smoke. Music playing and singing softly to it as I placed my head on his shoulder. His gentle, strong hands around my waist. My arms wrapped around his neck.

Every night they would go out. Every night I would watch them. Their hot breaths puffing like smoke, in the cold air. But then one night they didn't come out. Instead the man left. By himself. As he got into the car the girl ran outside after him. As he drove away she fell to her knees shaking, but not from the cold of the night.

Now she goes outside alone. In the same dress. Playing the same slow song. She floats across the ground. Now, in sadness. She no longer squeals with joy and her man no longer holds her close. She moves with no direction. No hope. But beautifully slow. A beautiful tragedy. She shakes as she moves in time to the beat, singing softly. Her voice is different. It's drenched in hopeless abandon and hurt.

Quietly, I watch her. Quietly, I dream. Of a man to hold her close again. Of her joyous squeal to fill the night air again. Of her voice to be filled with happiness and hope. Of her to shake, from only the cold.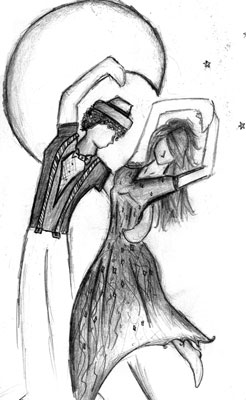 © Megan L., Everson, WA