One Like Me
June 18, 2013
One like me.

I never seen one before. One like me. Same color, same hair, same dark warm eyes. Shocked, I stared at him. I thought I was the only one. The only one with chocolate color skin, chocolate color eyes, corse twisty hair. But I guess not.

This is my daughter, Carly, my dad introduced me. I hid behind my dad, my white chocolate dad as this dark chocolate man waved at me. Hello Carly, Im Dr. Kwesi. Nice to meet you. He talked funny. Daddy why does he talk funny?, I asked stepping out from behind my dad. He has an accent because he's not from here, my dad told me. He's from Africa.

I look like him. Am I from Africa too? My dad and the dark man laugh. No, your not, my white chocolate dad smiled at me.

But he's one like me. I look like him. But I don't talk funny so I must not be from Africa. Where am I from them? Are there other people like me?

Dark chocolate man would talk to me. About who I was. I was milk chocolate, I knew that because my white chocolate mom told me. I wasn't white chocolate like mom and dad, but I wasn't dark chocolate like the dark man.

Mommy where do milk chocolates come from? All around, she says to me. But mommy, I whine back, dark chocolates that talk funny come from Africa. White chocolates come from America. Where do milk chocolates come from? She just looks at me sadly.

I still haven't met one like me. A milk chocolate. One that doesn't talk funny, but doesn't look like a white chocolate. One like me.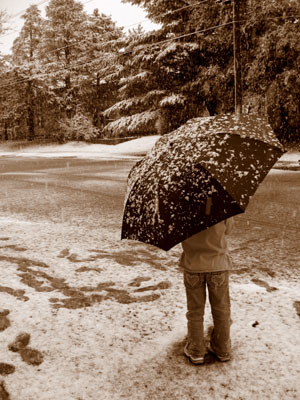 © Hui Y., Potsdam, NY