Hotdogs, Stains, and Elderly Abuse
September 9, 2013
Chicago: a city home to meat processing horror stories, classic architecture, a mean slice of deep dish pizza, and - unfortunately - my horrible luck in social situations. During my family's excursion in this beautiful city (I affectionately refer to it as New York's cleaner, prettier little sister), we had a few missions to check off our "Hey, look what we did in Chicago!" lists. One of said missions was to eat a famed Chicago dog, a 100% beef foot-long meat stick topped with every condiment on this planet; we picked the best hot dog joint in town and prepared to clog our arteries with a colorful mixture of beef and the American spirit.

The setting: Portillo's restaurant.
The atmosphere: Cozy, friendly, greasy.
The family hunger level: Approaching ravenous. (As in, we were about to scrape the roadkill off the street and slap it on the grill.)

We collectively trot over to the ordering station, purchase a round of greasy doggies and even greasier french fries, and pop a squat at a table in the corner of the room to spare any and every human being from seeing the sloppy etiquette that would soon unfold. We wait like crouching tigers in the grass. Every waiter walking by with food is stalked by our trained team of calorie assassins. And finally, our order number is sitting atop the tray: let the real-life Hunger Games begin. I pick up the meaty mammoth that is my hotdog, take a bite, and look up just in time to see an entire family staring at me.

I fumble. The hot dog tips downward. A mountain of condiments now lay in my lap. If I wasn't entirely sure that being stared at mid-bite into a hot dog is the most awkward social situation you can be put in, that ONE moment confirmed it. However, with as much suave as an Olympic gymnast who didn't quite stick the landing, I recovered - and devoured what would soon be my beloved food baby. The meal ended and the women of our party geared up for our post-meal rest room rendezvous.

We waded through the crowd of french fries and doggies and eventually reached the rest room… or, to be more accurate, we reached the hole in the wall with three bathroom stalls magically crammed inside of it. There was hardly enough space to breathe in this little room so, naturally, it was filled to the brim with eager restaurant goers. I reached the front of the line, took care of business, and promptly beelined for the exit. In a moment of relief and slight annoyance, I chucked up my arms to finger comb through my hair.

"AYYYYYYYYYYE DIOS MIO!"

As I heard this plea from the woman in front of me, two things simultaneously rushed through my mind. Why does my elbow hurt? Why did I just gasp and start apologizing? These two questions had one answer: I had just assaulted an elderly foreigner in the eye with my elbow.

She looked at me. I looked at her. An incoherent slur of apologies and complaints ensued. At a loss for what to do, I patted her head and walked out. Mortified was an understatement. I jogged back to my table and practically dragged my family out of the restaurant in hopes of avoiding an awkward encounter with my helpless victim. Unusually cooperative, they scurried out the door on command… only to bump into my elbow magnet and her family of at least 10 people. And their judgmental stares. Until the bus arrived. 15 minutes later.

I left Portillo's with stains on my shirt and a record of (unintentional) elderly abuse.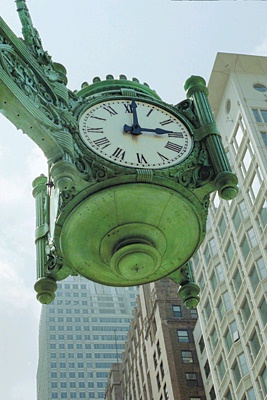 © Kendall B., Katy, TX