Hurt, Regret, and Betrayal
September 21, 2013
I don't remember him much back in grade school. I just remember his dark hair, his small hand gripping my own as we made our way across the stones to the swing set. The sharp shards poked into our shoes.

I remember swinging and reaching out, my fingers were stretching wide, our arms reaching far, and our hands connecting between the space to swing, back and forth back and forth, the old metal creaking and groaning. The air was hot and stale, hard to breathe in while the sun beat on our heads like silver crowns.

I remember his body, like a shadow next to my own ten year old body. He was tall even back then, his legs like long bean poles. I remember his shoulder brushing against my own and his small tentative hand searching for mine.
And then I severed the line between us.

I cut it, forced it to break like glass.

The shattering impact was loud, the end result was hurt.

And I regretted the blood that will later be spilled, crimson flowing down on the white tiled floor, staining it. And the crimson was very snake-like as it glittered back, staring me in the face, on the glass shards almost laughing at me, mocking me.

The flow was turning ever more persistent and running like a stream of blood red water. I watched it carve a ditch into the glass, grains of trust falling into the fast flowing river of blood and hurt.

I regret it. I regret watching his face crumble into a million little pieces right before my eyes, his own hurt and betrayal mirrored in the orbs in his head, right back into my own eyes. My reflection stared back at me, wide eyes, and mouth open in shock at what I just said.

I remember his back turning on me, his head shaking in utter disappointment. His black shirt walking farther and farther out of my little handed reach.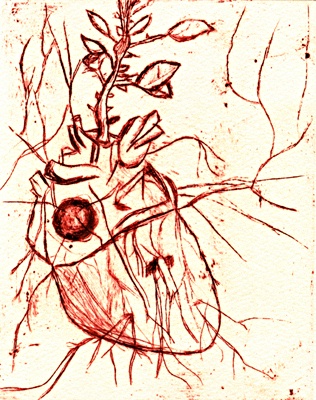 © Elaine S., Phoenix, AZ