Elsewhere
January 4, 2014
The squish squash of the water bloated floor pad was the only sound in the empty hall that I walked down. Water ran between my toes and softened my bare feet. A shadow from my foot followed me on the pad only to disappear as the pad returned to it's swollen state.

When I reached the first set of air lock doors my heart flutter with excitement like it always did when I came here. My hand wrapped around the cold metal handle and my body strained to open the doors. Familiar pressure filled my ears; experienced with this problem I jutted out my lower jaw then forced it wide open and the pressure released with a small pop.

The squish squash of the water logged floor pad became more frequent as my childish excitement hit its pinnacle. Then I came upon the second set of doors, the spinning ones, and I placed myself inside one of the sections and smiled when I felt the damp metal underneath my hands. My body strained once more as it pushed on the metal and spun into elsewhere.

In Elsewhere, I was hit with the pleasantly suffocating smell that smothered any person that entered Elsewhere. My mind took solace in this wonderfully musty, humid smell and it gave me a sense of nostalgia.

I looked at the white that encased Elsewhere in bubble and smiled. My eyes had longed to see Elsewhere just as much as my nose longed to smell it. Even my ears listened gleefully to the blatant raucous of elsewhere. People around me loudly enjoyed the main attraction of Elsewhere, the Great Blues. They moved around through the Blues, upsetting it greatly. TheBlues swayed back and forth and crashed against each other in big waves. Such a clamorous noise was music to my ears.

Once I dove into the Great Blues I was surrounded by a cool softness that my body was accustomed to. I sunk to the very bottom of the Blues and emptied my lungs and once the last bubble floated to the surface I shot up from the bottom and broke free from the Blues to refill my lungs. That's when I began to move. I chopped through the Blues in the way I was taught; my feet kicked, my arms stroke, and my heart smiled.

Elsewhere was the only place I could call my home and the Great Blues were the only thing I could call my bed.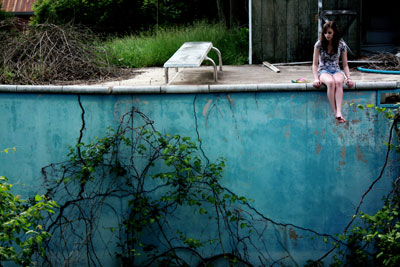 © Myra K.