Mismatch
MAG
February 19, 2014
"We can keep doing this," he says as he lifts my chin to kiss me – "and be really close friends," he adds with a smile.
I just take a deep breath, as I always do when he makes a promise like that. I try to focus on the moment and take note of everything. The brown leather couch is comfortable, but not overused. The dim lighting of my living room hints at the darkness of my empty street.
My head rises and falls with each breath he takes. My hand rests on his chest and I can feel his strength through my fingertips. His Under Armor shirt is soft and inviting. His left arm is wrapped around my body, and his left hand holds my right. My ringed hand somehow fits in his, which is calloused from years of catching footballs. It is not a perfect fit; his hand is slightly too big for mine. But for now, it is enough for both of us.
He looks at his phone, checking for a more tempting offer from a prettier girl. Someone taller, thinner, and more athletic. Someone like his ex-girlfriend. But it is 9 p.m. on a Tuesday night, so he settles for me.
He has done that for years. He settles for me when he is single, when he is lonely, when he is bored. I'm smart enough to know that, but optimistic enough to hope that he will change – that maybe one day he will say, "Instead of being my friend, will you be my girlfriend?"
So at 9 p.m. on a Tuesday night, I lie on his chest, hoping that tonight will be different. But after an hour he gives me a kiss good-bye and more promises he won't keep.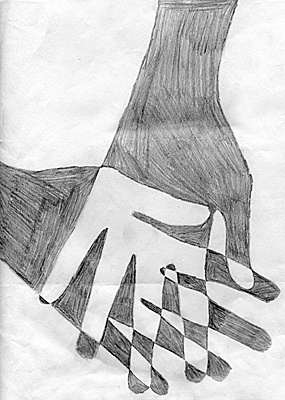 © Warlito B., Tamuning, GU