The Monsters We Face
July 7, 2014
Stephen King once said "Monsters are real. Ghosts are real too they live inside us, and sometimes, they win." Now my question is will you let them?

A month ago I stood beside my grandmother as we walked a few paces down the sidewalk near her house. We walked down the the sidewalk, her cane clicked against the concrete. Then she stopped, mid stride. Silence. I watched as her monster took form. It had no name, no gender, no feelings. It clawed from the sole of her foot, up, scratching its way across her calf muscle. Up into her thigh, it sank its fangs through skin, flesh and bone, tearing her apart. From her thigh the monster went upward, scratching its way up her spinal cord, leaving its mark on every vertebrae, until landing within her expression. And for a moment I saw her monster, her invisible monster revealed itself. For a moment I could rationalize with exactly how much this monster wore her down. For a split second I could feel the severe pain her monster puts her through everyday.

Everyone has their monster. A genderless, feelingless, nameless monster. An invisible enemy we must all battle with daily. Although nameless, our monsters each have a very personalized form. It's a force we all must face. They range in size, they range in severity. Everyone has their monster. A monster inside them that only they can destroy. Only you have the power to destroy it.

Its the force stopping you from succeeding. Its the thoughts of your hometown in the back of your mind. Its the loss of a loved one. Its the injury you can't seem to heal. Its sickness. Its yours.

My grandmother has hers, my grandmother has many. Hers takes form as a hip replacement, a spinal cord crushing its protective layer. Grinding down, bone to bone, scraping its way across each and every vertebrae.

Every single person, no matter who or where they come from has a monster.

I have my very own, very personal monster. It has a form, its a teammate not holding their end, a part of a system failing to complete its job, an endocrine deformity, an autoimmune disease, a tiny gland within the walls of my throat, its my thyroid. My monster is very special, and tests my strength daily. My monster has the power to throw my mood in a tornado within my body causing emotions to get jumbled into one big storm. My monster is very special, and tests my strength daily.

Some choose to accept their monsters, and do whatever they can to destroy it..Others choose to silence the monster, throw it in the farthest most part of their bodies until the monsters grow into indestructible forces.

Your monster will try to put unconquerable obstacles in your path, only you have the power to persevere through, only you have the power to destroy the monster. Ghandi said "Strength does not come from physical capacity. It comes from an indomitable will."

In which form does your monster come?

Are you strong enough to destroy it?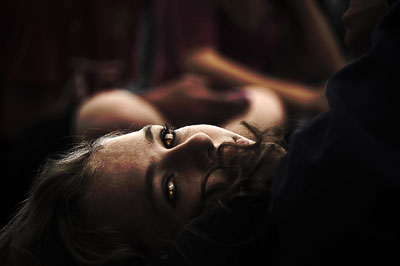 © Calvin C., Salt Lake City, UT