Mirroring Identities
December 8, 2014
This morning I was on a morning stroll just minding my own business and admiring the beauty of nature. I stumbled upon a pile of leaves that someone must have raked. They were all brown and dead and seemed to speak of no hope with the upcoming colder months. The leaves were beginning to decay and give their souls away to the sake of another's survival.

That's when I saw it: a runt, an oddball, a diamond in the ruff. It was an absolutely gorgeous leaf that shined with all of its beauty. Its vibrant green painted canvas brought a sense of hope and life to the surrounding area. This leaf looked so different, so unique compared to the ones around it.

I picked it up and my whole viewpoint immediately changed. From a distance, I couldn't tell. However, up close, the problem rung loud and clear to me; it was fake. I assumed that it must've fallen off a decorative house plant or a wreath of some sort.

That's when I realized something. Deep down inside, we are all the same. We all have thoughts, beating hearts, and feelings that knock on the cages in our chests. It doesn't matter what the color of your skin is or what learning speed you prefer. We. Are. All. The. Same. Inside. Everyone who is real will mirror each other even if you may not see it from a distance. And if you ever find someone who appears to be strangely beautiful or strangely different with the way they portray their inner callings, then they are probably fake. Fake, I repeat, just like the rest of the uniqueness and beauty we believe to have fallen in love with.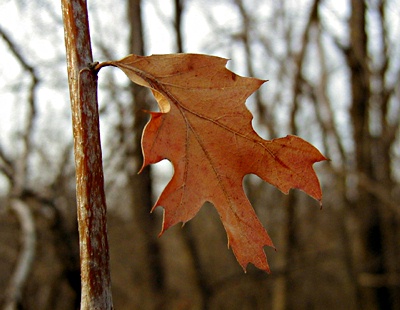 © Brad H., Lemont, IL