Rediscovered Friendship
MAG
Our speedometer held steady at 80 as we rolled south down the Pacific Coast Highway. We'd unzipped the Wrangler's detachable roof that morning, so I gripped my knees tightly to my chest under my jacket, my hair roaming wildly in the brisk June wind. To our right the Pacific raged and crashed under the approaching sunlight, while mountain peaks began to appear on our left. We were headed to the inviting streets of Laguna Beach, full of spectacular cafés, exquisite boutiques and fabulous homes.

For me, just after my sixteenth birthday, it was the definition of a perfect day. But for my dad - also serving as my driver, shopping assistant, friend, and tour guide - it was even more. Now, I don't think his ideal day included hours of shopping, but his continuous smile and arm proudly locked in mine made it clear just how much spending time with me really meant to him. It was that weekend that I realized the single greatest thing I could do to please him was enjoy his company. Easy as it sounds, since starting high school, devoting time to my family had dropped lower and lower on my list of priorities. But spending a week with my dad in California taught me that I'm loved for who I am, not for my grades or the mistakes I've made. I learned that my dad simply wants to be involved and enjoy life with me.

Just last week, shortly after arriving home from school, my phone rang and the caller ID revealed it was my dad. I answered as I greeted my dog and rummaged through the refrigerator.

"Hey! I'm driving into the mountains now, I've got the windows down. Wait ... can you hear 'em? Yep, I've got Rascal Flatts playin'!" he shouted over the music and wind.

"Yeah, I can hear it," I said.

"Well, I just thought I'd call and say I wish you were with me. Just like in California, when it was me, you, and Rascal Flatts in the Jeep, baby!"

He was in Estes Park, Colorado, his favorite spot in the country, getting ready to do a shoot. And although I usually would have said "See ya" and gone on with my day, untouched, I couldn't help but realize how much he really loved spending time with me. Sure, we get into arguments, and I usually strongly disagree with the many rules he sets for me, but when I actually listen to him, it's easy to see how much fun he can be. It almost makes me sad to think how little attention I gave him when he got home from work, or how little I saw him on the weekends.

Even though I've been back from the glorious sun of California for months, people still come up to me at church each week and ask about my trip.

"Tell me about California," someone will say. "Your dad just can't stop talking about how much fun you two had."

One of his close friends pulled me aside and said, "So, I know this trip was for your birthday, but I think it was really for your dad, he had so much fun spending time with you."

After these conversations, I recognized that I wasn't the only one who cherished that week in California. I think I could even say my dad's enjoyment may have surpassed mine. Not because it was his first experience in California (he's been going regularly for years) or because the shopping was stunning (he only bought a t-shirt), but he loved and will never forget how happy I was just spending time with him: hanging out because I wanted to, without all the friends, homework, games, or parties. It's the inside that my dad really looks at and loves.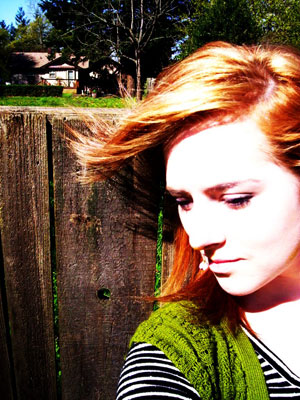 © Anonymous