Ja, Vi Elsker Dette Landet ...
MAG
I can remember it like yesterday. My heart was pounding and my stomach was doing flips. I really wanted to tell my mom to turn around, but I knew it was too late. We had already driven six hours and were entering the gate. I was going to be dropped off and left for a whole week by myself. I was only nine years old and had thought I was ready, but I knew I was wrong.

As soon as we passed through the gate to Skogfjorden, which means "lake in the woods," they started talking to me in Norwegian. What had I gotten myself into? I couldn't understand any language but English, and I didn't know anyone there. When I got out of the car, I clung to my mom. We went through the welcome stations where I picked a new name, met the nurse, and had my bags checked.

When I was packing for camp, I didn't know that it was immersion to the point of not having any American music, books, or food. When the counselors went through my suitcases, they found Skittles and a book, both of which went home with my mother.

Next, I was sent to my cabin. I remember climbing the steps and wondering if I really could live in Bod/PI for the week.

My mom helped me unpack and make my bed, but when we were done, she had to leave. At that moment, the tears started flowing from both of us. I had never been left alone and I was terrified. As we walked to the car, she told me she loved me. I hugged her, and then watched her drive away. By the time I got to my cabin, my eyes were dry and I was ready to meet the people I would be living with.

This is when the magic began. It was amazing how quickly I made new friends and how nice the counselors were. I learned an enormous amount of Norwegian in only five days and grew to love my home-away-from-home. Soon it was Saturday, the day Mom was coming to get me.

I was excited to see her and show her all my favorite places at Skogfjorden. After the closing program, my mom asked if I was ready to go home. I thought I was, but as soon as I got in the car, my week ended as it had begun - with tears. I was so sad to leave Skogfjorden and my new friends. As we drove out the gate and down the road, I knew that I had to go back the next summer - I was hooked.

Now, having been to Skogfjorden eight summers in a row, this is the first summer I will not be attending Concordia Language Villages. There is a void in my heart and summer schedule. I will miss being there because I've never had any experiences like those at Skogfjorden. The people there have such a refreshing way to teach a language.

I cannot wait to take my little brothers up to camp this summer, because I know exactly how they will feel when we drive away and then when we come to pick them up ... but who knows? Maybe someday I will be a counselor there, and will get to live in the same cabin as the new nine-year-olds. I will certainly know exactly how they feel as their parents drive away.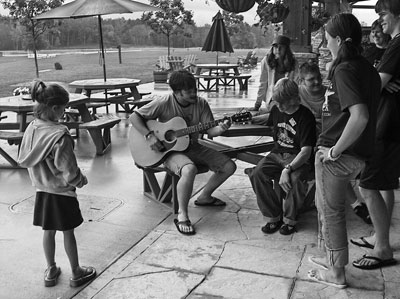 © Anonymous