Five Simple Words
MAG
The clock on my bureau told me I had 45 minutes to transform myself from the girl next door into a ravishing beauty. Swiftly, I moved the towel over my legs, absorbing each drop of water. Immediately, my eyes focused on a single blond hair on my kneecap. Shoot, I missed a spot. The knees are always tricky. I examined the hair from a different angle. It was still obvious.

Irritated, I rummaged through my drawer searching for tweezers. Hair elastics, eyeliner, and Q-tips scattered everywhere. I lifted my thumb to my lips and sawed down on the nail, every possible location for tweezers swarming within my head. The bathroom? My dresser? No. Wait, Janet, this is ridiculous. He's not even going to see your legs; the dress will cover them. I slammed the drawer shut.

Drying my hair will take at least 20 minutes. I need to apply mascara and lipstick, find my heels, and pick out earrings. Scanning the room, I located the hair dryer. Forget Britney, and Ashley, and Allie. Forget them all. I'm the one who's going to take his breath away. A burning sensation on my scalp warned me to dry the hair on the other side. You don't have to be 98 pounds to be attractive. I'm better than them. I'm prettier. All he has to do is realize it.

The time soared away from me. I jabbed the off button. Fifteen minutes left.

The dress, emerald green and high-waisted with draping pleats, hung in the closet, all other clothing pushed aside. Gingerly, I slipped it off the satin hanger and stepped in.

Okay, shoes. Amidst racks of flip-flops, I scavenged for my pair of black pumps. Finding them behind a pair of tangerine sandals, I slipped them on.

Ten minutes left. Every glance at the clock made my spine tingle, and brought me one minute closer to my grand debut.

Earrings. Peering into the mahogany jewelry box, I selected a pair of onyx teardrops.

Five minutes, final touchups. I snatched up my mascara and applied the gooey, black substance. I definitely need more practice at this. I looked like a witch and flicked off the globs with my thumb and forefinger.

My eyes shifted to the clock for a peek at the remaining time: four minutes.

Lipstick selection was simple, the soft pink of Maybelline Grapefruit. Inching away from the mirror I scrutinized my face, slightly ambivalent about the newest additions to my ensemble. I hardly ever wear make-up. A hollow feeling hovered in my stomach. Time was up.

This is it. If he doesn't like this ... if he doesn't like this, I'm just not pretty enough.

Inhaling deeply, I smoothed my dress one last time and stepped into the hallway. Legs quivering, I reassure myself, He's going to like it, Janet. He has to. And then I was standing before the double doors of the media room where he was waiting for me. My stomach soared and plummeted as though on a roller coaster. Noiselessly, I pulled open the door and let myself in.

He was lounging on the leather couch, his attention transfixed on the television. My entrance had gone unnoticed. I stood there, allowing the silence between us to build. After a few moments, his eyes swerved from the screen and focused on me.

"Oh, hey," he said. I had startled him.

"Hey."

He stood and sauntered over. My heart pounded in my ears. This was it.

"You look really beautiful, Janet."

The instant the word beautiful left his tongue, a bolt of lightning surged through my body, rocketing my heart through the roof and into the sparkling night. Past the Big Dipper, past Orion's Belt, past the moon, and past Mercury it soared. Those five simple words had ignited my most suppressed emotions.

Every once in a while, I take a stroll and try to retrieve my heart. Most of the time I can't find it anywhere. But sometimes, sometimes I think I spot it hanging from a star or from the thorn of a rose. And once, once I could have sworn I passed it on the street. It looked straight at me but disappeared before I had the chance to snatch it. It's hard living without a heart; I miss it sometimes, especially because I don't know why it left. But it did. And I don't think it's ever coming back.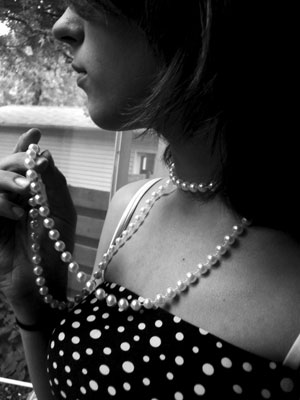 © Anonymous