Tears Only Ruin Your Make-up
MAG
"This should go well; last night was really good," Kelly said excitedly.

"Yeah, last night was really cool," I replied with the same enthusiasm. "Now that we've done it once, we can fix the parts we messed up."

"I didn't even notice anything was wrong," Kelly reassured us.

Our cheerful mood was suddenly cut short by the sounds of shouting out in the hall.

"Well, then, you can just take the costume off," shouted our director.

"Fine, I will," replied Michael. A few minutes later he stomped into our room, holding his Tinman costume. He threw it on a rack and stomped out of the room.

"Michael, Michael!" shouted Sarah, following him, her ruby-covered slippers clicking on the polished floor.

The director appeared, her shoulders slumped as she reached for a soda. Her face was flushed and we could tell she was thinking about possible solutions.

"Michael just quit," she told us. After a few seconds, she asked, "Abby, could I see you for a second out here?"

A few minutes later Abby returned, her face wrinkled with worry.

"I guess I'm the Tinman," she told me, frantically flipping through a script and looking for her first line.

Being in a drama club means that you're at least a bit dramatic. Usually the main actors are the most dramatic, and prone to stubbornness, too. If you intend to get up on stage, you aren't usually shy, and most of the time you have a strong personality. And sometimes, personalities clash. Okay, a lot of times they collide, and people end up quitting. Even the best of friends can disagree, and all of a sudden we're trying to perform "The Wizard of Oz" without the Tinman. Our drama club isn't big enough for understudies so we end up having to recast at the last minute. But, as one of my friends puts it, "In the theater business, tears only ruin your make-up."

It might sound crazy, but in some ways this chaos is reassuring. Somehow, we always manage to pull together and go on with the show. It might not be the best, but the fact that we put on a performance is what's important.

Listening to the applause, we always feel a sense of accomplishment. Not only did we finally perform the play we'd spent almost every waking moment on for the past three months, but we showed those who walked out that we could do it, even without them.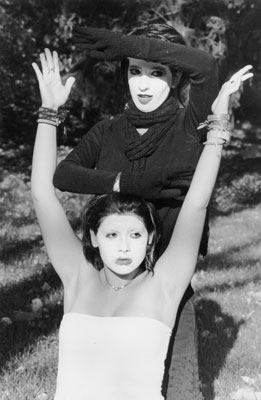 © Anonymous