My Favorite Place
MAG
I get off the bus and walk a few blocks. I stop when I get to a garage-like place and walk to the metal door with chipping brown paint. I turn the knob and walk in. A thousand eyes look at me as I take my place at the end of the long line. When I finally get up to the window, I hand the officer my ID.

"I'm here to visit Mr. C. Yes, I'm his daughter."

I have that line memorized. The officer hands me a piece of paper with my name as the visitor and my father's as the inmate. It tells me what floor to go to. As I get on the elevator, a rush of excitement runs through me. On the eighth floor, I go to another window for the officer to check if I'm on the visitor list. I am. Then he tells me to go to window six. I look around and see the faces I see here every Sunday and Thursday.

There he is. I stand on tiptoe to get a better view since I can hardly see him. He doesn't look like my father. He's got a beard now and he looks a lot meaner. He doesn't look like the dad who gave me big bear hugs or played silly games with me when I was young. He's the dad that I see through a window. My dad who is separated from the world. The only place he now knows is his cell. When I look deep into his eyes, I see emptiness and pain. I see a tired man who I think could sleep until the day he dies.

It's difficult to hear him through the thick glass and over everyone else who is trying to talk. We try to carry on a normal conversation about simple things including my day and what I'm doing in school, but we mostly talk about how we can't wait until he gets out. After an hour my time is up. We say our good-byes and love yous. I stand on my tiptoes again watching him as he fades into the other side of the window, a side I'll never get to see.

I turn and walk to the elevator. I feel my face get hot and tears blur my vision. I'm at the first floor and I walk out, letting the cold winter air smack my face. I get on the bus to go home.

My favorite place is where my father is - prison. I know, how can prison be anyone's favorite place? But it is because my father is there. It'll no longer be my favorite place once he gets out, though - home will be.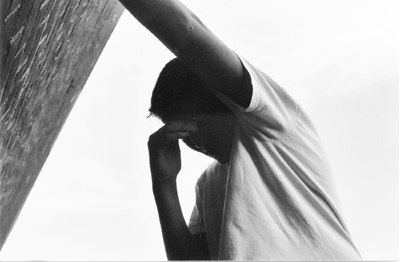 © Anonymous