Cry for Help
MAG
The drive up set the tone for the vacation - small white flakes ruthlessly devoured I-95. It was spring break and snowing. When we arrived, I watched the city's populace melt out of vandalized subway cars and retreat into the oblivion of dusk. Philly, it seemed, boasted little more than 20 m.p.h. winds and the promise of unconditional fraternal kinship.

I still hadn't eaten a cheese steak or seen Independence Hall but we had, as a family, visited the three-block Chinatown and Little Italy with lively Mexican hat vendors. The neighborhood of the night was an entire continent - Africa as an urban strip. Green and red neon glared mercilessly; faded five-cents-a-minute calling-card ads swung from exotically titled convenience stores. The streets were empty and calm - eerily so.

My parents chose a restaurant the guides called "original," my parents called "eccentric" and my sister deemed "funky." It fit the persona of my parents' favorite ethnic spots: dimly lit, cheap and authentic.

Grim waiters placed food that was sufficiently exotic but not so alien to turn away teenage eyes upon a giant platter in the center of a wicker basket. We were instructed to use a crepe-like pancake to scoop up moist curried chicken and marinated beef. The meal proved a temporary success: it satisfied my voracious appetite, made me feel Thanksgiving-drowsy, and countered winter's vitriolic aftertaste. I left the Ethiopian eatery content.

This is why what happened was so shocking.

This is why, when she cried out, "Someone, please, call the police!" I became comatose, became numb.

The sidewalk, cold and trash-strewn, became an icy stage for a drama unfolding in front of stores barricaded by chain fences and locks.

No one responded when she cried for help. Not my parents, pampered by lifetimes of privileged American society of true justice and humanity. Not I, similarly naive. Her cry went unanswered and the cracks in the foundation of humanity deepened.

They were roughly ten feet apart, she and the man, as we exited the restaurant. They talked, she shrieked - this young woman with gnarly, unchecked emotions blatantly protruding. She had cornrows and a raw demeanor. His image said street cool, his demeanor said dangerous thug.

"Leave me alone! Get away, you piece of s--t!"

"Don't you go telling me what I gotta do."

We walked past. I hesitated, stared, kept going.

"Stop followin' me, Ray. I don't gotta take your crap no more."

"Shut up, b---h. Why you playing me?"

We crossed the street. My pulse quickened. Later, the curse of hindsight disturbed my sleep. I imagined doing the right thing: seeking help, intervening.

In reality, I kept walking.

Their voices began to fade. "I said, back up! I ain't your garbage no more, Ray!"

"Say that one more time, see what happens." She does.

We are near the car.

He steps closer to her.

"Someone ... please ... call the police!"

My dad slams the door and we leave.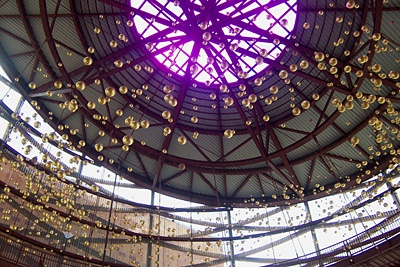 © Anonymous