Hide and Seek
April 30, 2015
My shoulders quivered as I entered the classroom; that door would launch me into adulthood. Since my first move when I was eight, I'd never stayed in one house for more than a year. By seventh grade, I'd moved six times. This year, I needed make a friend, or else I would become a quintessential loner - shy, awkward, and way too tall.
"Sophie" the teacher chimed, "You'll sit here." I saw a desk by a preppy, already dating, mascara coated, primadonna. On my other side was a boy who never made a sound unless he was picking his nose. I rolled my eyes, pegging a preconceived judgment of every soul in the room. I prided myself with "reading people" and gauging their personalities.

I now understand this "skill" sprouted from insecurities about my parents' divorce. My anger towards my mom's new husband and my father's alcoholism had heightened to an extremity I was oblivious to. I was afraid to step back and analyze myself. I pretended I was faultless; but subconsciously, I knew the real reason I profiled people 24/7 and left my case buried at the bottom of the pile was because I was terrified of what I might discover. What would happen if I let my guard down? What if there was no 50 foot perimeter to fortify my heart? What if I started to bond with my mom's boyfriend, or slipped on retorting a sardonic comeback to everything my dad said? If I shattered the ice harboring my secrets, what emotions might surface? These feelings were bottled up inside me; I had no outlet. Later on, this suppressed anger became the cause of unexplained breakdowns and broken relationships.

"Okay kids! Tell each other your name and what you want to be when you grow up" the teacher said, then pointed to a girl in glasses who hadn't spoken a word, but I'd already decided she was a bookworm obsessed with Harry Potter. She spoke, then turned and shot me a smile. I was stunned, the only other recognition of my existence had been when I walked in the door and heard someone snicker, "Who's he?" Which I assumed was a joke about my awkwardly short pixie cut, or the fact that I didn't wear makeup. Honestly, I never even matched my clothes. It was my turn to speak, but that girl made me realize I didn't know who I was. Small gestures, like smiling at the new kid, are what characterize someone; these trivial actions are sacred to personality. This cognizance spiraled me unto my path towards maturity.

Others don't need to like me, I need to like me. I dared to take a look at myself, and found I wasn't happy; I was selfish, prideful, and judgmental, but not happy. This sparked a fire in me to alter my character. I was reintroduced to myself and found I'm smart, funny, and I love helping people. I've matured enough to turn the other cheek, and ignore what others think of me.

I caught my breath, and encountered compassion. Entering my young-adulthood, I embraced diversity. I'm not "above" befriending the guy with acne, or the girl who's overweight, because I was an underdog too. I met a Japanese girl who had moved here from Hawaii, and we've been best friends ever since. I grabbed a pencil and started sketching towards my future, where I'm an artist, a ray of sunshine to penetrate a dark world. Art helps me confront my feelings, each of my pieces embodies my personal growth. Nobody is perfect. My relationship with my father is still broken. However, I've learned not to take my anger out on others. I now empathize with someone before slapping an overgeneralized label on their forehead. I accept people for who they are and hope they return the favor.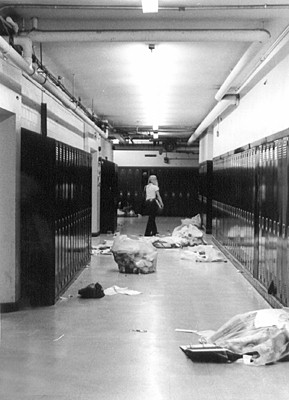 © Halsey S., Marblehead, MA