The Thing About Love
MAG
December 18, 2015
It was late. The moon was closing in on midnight, but their voices were still loud. My father had fallen in love with a woman who practically begged to argue.
My youngest brother was asleep in his crib, and the second one, soon to enter fifth grade, lay soundlessly in his twin bed. He'd gotten used to the arguments; when silence wafted through the household, it made him restless and nervous. I knew because I felt the same way.
I was in my bedroom writing when I heard a door slam and loud footsteps above my room. I could hear my father huffing with anger and shaking with hurt. The crickets were quiet, and the walls of our house witnessed the sobs of his wife.
I ripped the page from my notebook, tossed the book on my bed, and threw back the blankets.
Paper in hand, I nervously went upstairs. I almost turned around; I find it very difficult to share my writing. I stepped over a baby gate and sunk into the beige-colored love seat. The couch he was sitting on was at a 90-degree angle to it, so he was within arm's reach. His elbows rested on his knees and he held his head in his hands. He rubbed his face, looked up at me, and forced a smile.
I was nervous. My palms were sweaty and my fingers shook. "I wrote you something," I said, remembering how earlier that day he'd apologized over and over for putting me through this again.
I handed him the page. My father has always struggled with reading, but on the rare occasion that I shared something with him, he never said no. I watched his eyes slide over my slanted handwriting, moving slowly past the title and reading the words I desperately needed him to understand.
"I don't blame you,
I blame trust"
I lifted my eyes from the paper and watched his lips part slightly.
"I blame love"
He blinked.
"I blame acceptance,
I blame how foreign acceptance is,
I blame foreign feelings in general"
She'd always insist he never loved her as much as he said he did, and she never believed she was beautiful.
"I blame complexity"
I watched his eyes. I'd inherited the same ones.
"I blame colors and vibrancy,
I blame the fingers and toes you counted the reasons you loved her on"
His Adam's apple bobbed.
"I blame the rain that sounds so beautiful next to your screams,
I blame the salty taste of tears,
I blame love"
His fingers shook.
"I blame the hatred such fragile love contains"
He blinked. I knew he was thinking about when she looked in his eyes and told him she hated him.
"I blame love"
He shut his eyes, folded the paper in half, and let it fall onto the coffee table. When he opened his eyes, he looked at the paper as though he'd just prayed it wasn't there.
His voice surprised me when he spoke.
"Don't blame love," his voice cracked. "It's all we have."
I thought about his wife, and his last wife, then his first. I thought about my absent mother and the things he put himself through to raise me. I thought about the bent fork in the kitchen drawer that she'd thrown at him and missed. I thought about the time he caught her in a lie. I watched him fight the tears, the depression that demanded to take over his body again, the anger building inside him, and the hurt draping his shoulders like a scarf in summer.
He blinked slowly, like it pained him to open his eyes. There were dark bags beneath them as they silently pleaded with me.
"Love is all we'll ever have."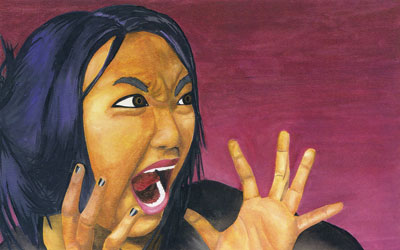 © Lauren S., Forest Hills, NY