THH: It's All Genetic
April 15, 2016
It was my favorite paragraph to write. You were meeting one of my characters for the very first time; and whether or not it was a main character, it had to be special. I devoted myself to painting a crystal-clear picture with technicolor paint, diving into everything from eye color, face shape, to the luster of their hair. There was an added bonus if I could figure out a middle name or two.
But over time, my writing style began to change. And one day, poring over old short stories I had written, I wondered why not so long ago, I had given so much attention to crafting a character's appearance. Did their looks really have such an effect on how I perceived them?
After all, each character has their own attitude, agenda, ideas. The writer, who is in everyone's head at once, should know that better than anyone. And as the director of everything happening everywhere, I should probably be more worried about the prince's plan to kill the king than his haircut.
Even through writing, it's surprising to realize how much attention we pay to people's appearances. We know better than to judge things based on their cover, but sometimes we just can't help it. And more often than not, these first impressions are heavily influenced by traits like eye or skin color. Traits, as we know now, that come from a genetic code manufactured before we were even born. We haven't always known this, and ancient labels still follow genetic traits in a modern language. For example, blue eyes have seen different kinds of connotations throughout history. They were seen as the devil when first seen by the Chinese, living on the other side of the world, and as a sign of German racial superiority by the Nazis in World War II. (Blue eyes in teen fiction, of course, tend to be considerably more glamorous.)
And even as people choose to dye their hair, tan, and put in color contacts, many of us will continue to show our inborn genetic traits for the rest of our lives. That means it's a big deal--or is it?
As I write this less than a week from my birthday, I have grown increasingly aware, as well as grateful, for the unique genetic code I was born with. There's no reason to feel anything but pride in what I was given to live my life.
And it's not all out of my hands, either: my ideas and writing will be up to me to craft, create, and perfect, just like an author creates a character from scratch. I am realizing every day that it is up to me to empower myself.
There's a saying that says diversity is the one thing that unites as all. And even as we stem from different origins, different cultures, and genetic lotteries, there are countless connections waiting to be made between our future hopes and dreams. We are closer than we realize.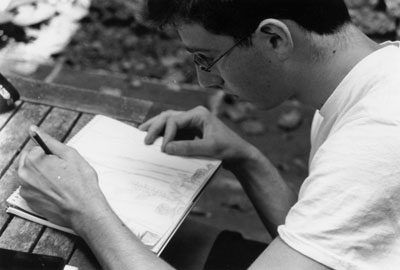 © Kira L., Bethesda, MD