Body Language
MAG
May 26, 2016
There is no such thing as speaking with your hands.
I should know: many of my relatives have never spoken a word in their lives. Their voices are confined to bubbling "ba"s and false languages that no one will ever understand. When their hands dance around each other, circling off words and phrases with the quick precision of chopping vegetables, it is not just the hands that are speaking. When you sign, you speak with your entire body. Your face scrunches and releases and swirls into thick, soupy expressions that never settle. From the elbow down, your arms float and your fingers flutter. Your body rocks back and forth as you lean in for emphasis, then away in surprise. Your head tilts, your chest rises and falls like a mountain shaking, and your eyebrows raise in question.
Your body signs.
This is why it is so enchanting to watch my relatives sign to each other, the deaf to the hearing and back again. Everything about them is alive and glorious, and those hands are always dancing. I have never been part of this dance. I've always watched from the outside, lost in a circle of open palms moving too fast for me to see. I've always been the understudy, all dressed up and ready to go but rehearsed for the wrong number. I've always been the one who gave embarrassed waves to the smiling faces.
Now, I am trying to learn. The computer instructs me, and I follow. My school does not offer courses in American Sign Language. In fact, when I say "ASL," the first thing that comes to most people's mind is the slang for chatroom exchanges of information. People still think it's universal around here. Tell me, is Chinese universal? French? English? Are bodies across the earth universal in the way that they lean back and forth, in the way that their faces emote and their chests rise and their fingers flutter with raised eyebrows? Still, the computer instructs, and I follow. I try. There's a club for signing at our school, but I am the only student. That is fine with me. I will learn.
There is music for the deaf too. There are interpreters who go to concerts and try to make this music tangible through the rhythm of their hands, their bodies. They have communities. Customs. Slang. They are a culture without borders. When they write, their words blur and mingle with each other because their language is different from ours. They do not sign in perfect English because they are not American – not in the sense that I am. They are Deaf-American, which means they have a dialect like China or any other country.
Now, some people are trying to say that the use of sign language is declining, that spoken language is the preferred option because there are "cures" like cochlear implants. I am not bothered by this. People have said things like this before, and they always will. But I know you can't force words out of people who can speak with their bodies, and you can't take them away, either. They have a language – many languages in fact, and signing is just one – but you can't fix what isn't broken. The deaf are not broken, and whether they choose to use voices or hands to tell you this, they are right.
I know people will still ask me if anyone even uses sign language anymore. I know I will still be told it is universal, that it is declining, that children should speak even when they cannot hear the words. I know I will still wait in the wings for classes and courses that may never come. But I also know that there is a reason that my grandmother wishes she knew more signs.
I know that my relatives are humans with words all their own, words that can't be contained by their mouths. I know that just because someone's mouth is shut it doesn't mean that they don't have anything to say. Their bodies are still breathing, still crying out with shaky hands and bright eyes filled with capital letters.
They're speaking.
Maybe you're just not listening.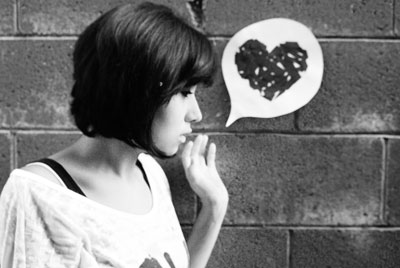 © Michelle B., West Covina, CA