Hatred and Love
July 22, 2016
I get jealous and greedy in a way that most people will never understand.
I don't envy people for the things I want because if I really want something, I will work for it. Sharing isn't one of my obstacles. Here, take the last piece of cake, have my phone charger with the longest chord, I can get a new one. Things, material, tangible, invaluable things can be replaced. They aren't unique, in fact there are countless replicas of your favorite pair of shoes or your brand new smartphone or watch or necklace. I get jealous of something much more personal, something annoyingly unique and original.
I get jealous of other people's words.
Before you make assumptions, let me explain. 
I write. I write stories, short and long. I write poems and quotes. I write dialogue. I write random pieces like this one and never know what it will become.
I write. A lot. And when I'm not writing I'm thinking about how what I'm doing right now will make it's way into a line of dialogue or a short story. When I'm talking to someone it often seems like I am half-listening to them, and that is completely true because I am trying to eavesdrop on the conversation going on next to me. I am always thinking about writing.
The clock read 10pm the night before I left for vacation. The next morning I had to wake up at 3am and get on a plane three hours later. My plan to go to bed at 8pm had failed tragically for two reasons. The first one was that I had procrastinated packing my suitcase until the last possible moment. I hadn't looked at the weather schedule for the trip, so I packed everything. Sandals, tennis shoes, jeans, shorts, sweatpants, bathing suits, jackets. Everything. In spite of trying to close the suitcase shut for about ten minutes, it finally zipped all the way around. Success. The second reason I had gone to bed a full two hours behind schedule is a cluster of unimportant, unnecessary things that I can't recall. I fell into my bed and pulled the covers over me. After a few minutes of moving around and trying to find that comfortable, peaceful sleeping position, something popped into my head. Words. A quote to be more exact. A good quote. A  quote that if I didn't write down within the next twenty seconds would disappear kind of quote. I angrily looked over at my night stand where I charge my phone at night, but it wasn't there. It was packed in my over stuffed suitcase that will take twenty minutes to close again. I throw my covers off and half stand up half fall out of my bed. Are you kidding me? The thought passes though my mind. Is this what being a writer is? Where is my coffee table and my apartment overlooking the city with me drinking coffee and writing in my pajamas? Maybe that's just the image that writers want you to see. Maybe they don't want you to see them running around in complete darkness, throwing things out of drawers in search for a pencil and paper, repeating some quote over and over again.
I promise you that there is a point to me telling you that seemingly oddly placed, over detailed story and it's this. Words mean a lot to me. Words stick with me. That's why I get jealous when I hear a heart wrenching line of dialogue or a breathtaking poem. The words, the way they flow stays with me, but that's not the problem here. The problem is that they aren't my words. I didn't write that. I didn't write the thing that I relate to on such a deep level they might as well have come from my mind. But they aren't. They are someone else's. Someone else had the experience of putting those unrelated words and fitting them together to create something unique. In that moment, when I hear or read that quote or poem, I hate that author, but at the same time I am so thankful that they helped me learn something new about myself.
On a few occasions, I've thought about not writing anymore. Who is actually going to read my work? I feel like I'm screaming into the void and I almost give up. Then, I remember that feeling of hatred and love. How those words will never leave my memory. And that's something I can't give up on. If my words can one day stick with someone, really, truly stick with them, how can I rob them of that? How can I take away something that they didn't even know was there, but can change everything? I believe that words can change everything if they are strung together in just the right way. I'm going to keep writing and hopefully, I will continue to get jealous and greedy, so that one day I can be on the other end of the jealousy.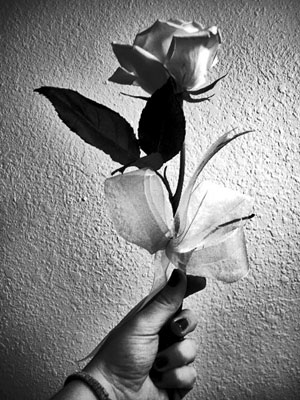 © Lauren R., Edmond, OK