Eating Disorders
MAG
July 30, 2016
"You need to go into the hospital," a blonde woman in a white robe told me, "Do you understand what I mean?" At the time, I couldn't really concentrate on listening to my doctor, instead, I was staring at the stack of magazines behind her. That model. Her endlessly long legs and tiny waist were barely covered in a dark purple swimsuit. Thoughts of what I would do to look like her filled my mind. And instead of looking at the doctor, my eyes drifted off at the latest issue of Vogue.
My doctor sighed in exasperation, "We're going to weigh you." I snapped back into the idea of getting weighed and I froze into an icicle. Oh gosh I've gained so much. No, I haven't weighed in so long I don't want to see how fat I am. I hate scales.
My mom pulled me up and led me to the very back of the clinic. A nurse pressed me against a wall and said, "Five foot, three and a half inches." I nodded. I haven't grown an inch since last year. The scale awaited me as I bent down and took off my shoes. Pressure grew in my chest. I heard my own heart pounding, each beat a little weaker than the one before. As I got back on my feet, the world blurred with splashes of darkness. I closed my eyes to steady myself, but the ringing in my ears hurt more when I couldn't see. My feet stumbled towards the scale and I held onto the wall as I stood still, avoiding seeing the gigantic number that would pop up. The nurse hesitated and told my mother a little too loudly, "Exactly seventy-eight pounds." I was elated. I lost weight! I didn't gain at all. It's gonna be okay… I looked back at my mom with a smile, but as soon as our eyes met, my smile faded immediately. Tears flooded out the corners of her eyes.
Back in the car, my mom sat silently. I took the medical report from her hands and quickly scanned over the whole page. I stopped at the line that read "... diagnosed with Anorexia Nervosa." I wanted to tell my mom the doctor was wrong, that I don't have a problem, that I wasn't sick, but exhaustion was the only thing I felt. My head fell onto the window and I gazed out the window as my mom drove to a nutritionist.
How did I ignore the looks and whispers at school? Why did I not question my "suddenly" baggy clothing? How did I not realize that I lost more than thirty pounds in one summer? Looking back, I understood why. I was trapped, obsessed, in love, being tortured, and emaciated at the same time. Confusion couldn't have lead me anywhere or let me connect with my own body. The consequences of systematically starving myself has came together and attacked me at once that fall.
So many people glamourize eating disorders, and it angers me so much. That day, my whole life was taken away from me because of my eating disorder. With a simple doctor's note, I could no longer dance, I couldn't participate in extracurriculars, and I now had appointments taking up all my time. Eating disorders are not what the media makes them out to be. Unlike myself, most sufferer are not at a dangerous weight. Many are still struggling in recovery while hundreds of victims do not even know they have an eating disorder. Tumblr and instagram can make an eating disorder look so romantic and glamorous. Anorexia is not what "thinspo" shows. Many pro-eating disorder accounts envision the disease as a perfectly skinny girl in a short skirt with gorgeous hair and knee high socks. In reality, I lost about half of my hair from malnutrition and froze in anything that didn't cover my body head to toe. I couldn't even wear fashionable clothing because I felt freezing every single second. Anorexia isn't just a thigh gap. It's losing my period, risking the loss of bone density forever, and nails that'll break when I feel them. It is hair starting to grow all over my back because I couldn't keep warm. It is isolation from my friends and family.
Many people asked me what it felt like to not want food and I would answer, "I have no idea." I wanted food all the time. I was STARVING and that was all I could think of. I was so hungry that I would just watch cooking shows and stare at food pictures for hours. But no matter what, I compelled myself to not eat or I'll lose my values, my emotions, and I would be a failure. That was how hard it was. I was obsessed with my worst fear. That is what Anorexia is, being your own demon.
I've always wondered what caused my eating disorder. Like many others, I assumed it was just my vanity, my wish to impress others, to be accepted and beautiful. But during recovery, I realized that was not the root of my problem, it was merely the way I chose to cope with hardship. Of course, before my illness, I worried a lot about my appearance and what others thought about me, which was a flame of my eating disorder, waiting to be ignited. If I truly deprived myself of nutrition to have a good figure, why could I not eat when I looked sick. When I lost my butt? When I lost my boobs? If all I cared about was looking beautiful, I would have stopped dieting, but for me, it became an addiction.
Weight loss was the only thing that made me feel important. It gave me a sense of confidence and attention nothing else in my life has given me. In the past, I was used to being excluded, the one friend in the group that felt unimportant. No matter how many As I received in school, it was no surprise to my family. No matter what accomplishment I achieved, more advice on improvement came at me than compliments. While drinking alcohol allowed others to feel free, seeing the number on my scale drop made me elated. Food restriction was my addiction, my drug. It gave me confidence and a way to cope with my faults. To worsen the matter, dieting was "socially acceptable."
This summer, my eating disorder took away many opportunities. I was accepted at a summer camp at Yale University, but I couldn't attend. I also received a scholarship for a youth diplomacy summit in Washington D.C, yet recovery stood in the way of that too. Sure, I was devastated at first, but my priority is not only recovering, but reinventing myself. No more tormenting myself, no more self-loath, no more not being good enough.
In a society that drives off of criticism and perfection, I am working towards loving myself and accepting my flaws.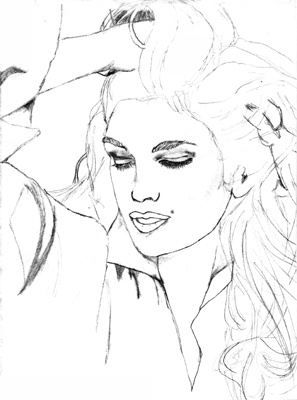 © Victor V., Strathmore, CA