Tips for Teen Writers from a Teen Author
February 11, 2018
Writing a novel is one of those things that sounds straightforward and uncomplicated and then slowly takes over your life, your mind, and all your free time. Or at least it did for me! The process of writing Heartshire High, my first YA novel, which is a modern retelling of Alice's Adventures in Wonderland with a murder mystery thrown in, was a long one.
If you're thinking of writing a novel, or have started the process, or have finished your book and are wondering, "What's next?", here are some tips I would have found helpful during my journey to writing and publishing a novel.
1. Make an outline. Making an outline was one of the most important steps to finishing my novel. It helps make sure you stay on track with what each chapter should include, stay consistent with your characters and their characteristics, and don't lose any aspects of the plot. You may not need an outline for a three-page paper, but a 50,000-word book is a very different story!
2. When you don't know what to write, write something. It was so easy to feel stuck in the writing process; sometime a few weeks would go by without my adding anything to the story. I quickly realized I needed to create some type of schedule and set time aside so that at least I was writing something. Sometimes it wasn't any good and I ended up deleting it later, but at least it got me out of my rut and made sure the process kept moving forward.
3. Edit, edit, edit. Then edit again. You almost can't read your book too many times. Even after you feel like you've memorized every word and comma, keep reading and editing! I thought I'd made every edit known to man, and then it turned out that I actually misspelled one minor character's name in a chapter! Crazy, I know.
If you have family, friends, or teachers who are willing to read for you before you publish, take them up on their offers! You might not take every suggestion, but you'll get ideas and valuable feedback and catch stupid mistakes you might have missed!
4. Build up your online presence. Whether you plan to self-publish or look for an agent to go the traditional publishing route, your online presence is everything. Build a website and keep it updated. Create social media accounts for yourself as an author and update them regularly. I wasn't great at this, but I found even my sort-of-okay website was a big asset in reaching out to others.
Outside of your own accounts, branch out! Get involved in reading and writing communities, including blogs and book-reviewing sites like Goodreads. Having a presence here will help you to reach out to others, network, and share your book.
I recommend starting this part of the process while writing. That way, once the book is ready to publish, you have already made connections. The writing community is smaller than you think and very active online, so don't be shy about reaching out to authors you love and sharing your writing everywhere you can.
5. If you don't know if something's allowed, Google it. I made a big mistake in the first draft of my book when I assumed that I could include song lyrics in my novel without any kind of special permission. NOPE! So I quickly had to make lots of changes and get a second edition out to reviewers.
If I'd just Googled, I would have seen quickly that this wasn't allowed, which would have saved me a lot of work and embarrassment! You can't be expected to know everything, but if you have any question as to whether something's allowed, look it up. Can you use brand names in a book? TV show names? Movie character names? Famous movie lines? You might not know, but Google does.
6. Don't be afraid to make big asks. When I decided to self-publish, I was pretty overwhelmed by what to do. There were so many little details I had to take care of and so many steps that were brand new to me. Just listing the book on Amazon felt like a huge victory, but it wasn't going to do anything on its own! That's when I had to start reaching out to authors, reviewers, and all kinds of people I was scared to contact. Up until now the process of writing and publishing my book had been on me, but now I had to put it out into the real world. When my book went to #3 on the "Being a Teen" Teen and Young Adult New Releases Ebooks list on Amazon, I realized all the risks were paying off. So just ask-- it seriously can't hurt!
That said, do your research before asking. Make sure you aren't wasting anyone's time by sending them an unclear request or a sloppy draft. Make your book as good as you can, write a well-written and clear request, and respond to all emails and messages within a couple days. Make it easy for people to help you, and they will!
Writing one novel certainly doesn't make me an expert on writing, but I hope you can learn from some of my experiences to make the process easier for you!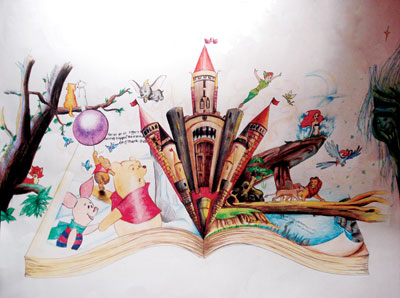 © Shirley L., Chino Hills, CA