The Battle
November 22, 2010
The crisp, icy air blowing against my face over joys me. It nips at my skin, leaving goose bump kisses upon me. I've been waiting for this day since spring came. During the spring I would just think about it from time to time. Summer came and every now and then I'd dream I was out here, veins pumping adrenaline, cheeks rosy pink. Fall came, and I'd eat, sleep, and breath it. I'd think about it constantly from dawn to dusk. When I'd dream about it, I'd be on the hill just about to go down, and the dream would end, and I would awake unsatisfied. When I'd sleep, my muscles would twitch like I was actually out here.

Standing here now, all I've wanted and so much more. I lean forward and let my mind free. My heart thuds faster and faster, pumping blood to my frantic muscles. The arctic wind fights against me. It's a battle against strength. Will he knock me down, or will I conquer him, and shred my way down the mountain, spraying snow everywhere. My legs react to the movement like breathing. They lean forward and back as if the board has been a part of them their whole life. My hands keep me balanced through out the battle.

Wind howls in anger as I make it past the mid-point. Delighted, I laugh out loud, the odds are in my favor. Wind blows a huge gust towards me, and pushes me toward trees. I zigzag through the trees, and make it back onto the course. The battle rages on. Even angrier than before, Wind starts a blizzard to take me out. I've waited too long to be knocked to the ground, too long. I lean forward, and speed up. Snow slaps across my face, leaving little droplets upon my cheeks. I carve along the hill, going faster and faster, leaving the blizzard behind. I ramp off a small hill and fly through the air. Wind tries to blow me away, as if I was a snowflake. I land, and spot the finish, only a 100 more yards away.

I smile, I know I have already won, and Wind knows it too, but the battle isn't over yet. He gets infuriated with my soon to be victory and tries to stop me one last time with a whirl wind. This catches me off guard. I don't have time to think, I have to go into action. I dart toward the tree's, and carve my way around them. Sweat lines my forehead, just below my beanie, as I swerve away from the tree's outreaching branches, and bristles.

Wind roars with laughter, he thinks he's best me, but I won't let him win. I keep to the trees, barely escaping the frost-bound grasp of the whirl wind. I'll either crash into a tree, or the whirl wind will overpower me. I see the finish only 20 yards away, and give it all I got. My adrenaline is running low. I have to move quickly! I lean forward, leaving the trees, I jump into the air and soar the last 20 yards to the finish line.

I slide to a stop turning to face the mountain I just conquered. I take off my helmet, and look into the air at Winds face. I smile as he cries out over his loss. I unbind my boots from my snowboard, and head to the ski-lift for another battle against Wind. I may win or loose, all I know is that I am having the greatest time ever.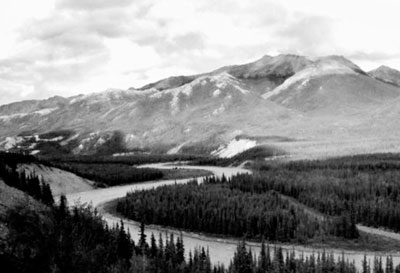 © Hannah B., Linwood, NJ