THH: Exercise? Me? What? No?
January 22, 2016
It wasn't because I wanted to be thinner, or more muscular. Knowing so many girls who feel insecure about their bodies, I almost feel lucky to say I'm happy in my own skin. I didn't start exercising to change how I looked.
Instead, I've had a curious relationship with the concept of Physical Exertion. It's not like we've never been friends, but we've never been friends. I used to be proud of running the mile in sixth grade. Oh. The mile. I was lucky to get 10 minutes, slogging through wet morning grass with needles in my ribs. Afterwards, my legs would throb and throb, meanwhile a pleasant reminder that it would be days until I had to worry about using them again.
Soon, I also realized that sports, well, they weren't for me. I actually sucked--and persist to suck--at every single sport that exists. Even basketball, which I remotely like, does not like me back. I could spend quality time perfecting the aim for the ball I was holding and then somehow whack myself in the face. My gym teachers were not amused. I was very not amused. Even now, naturally, the only people I know are athletes who serve birdies with blinding accuracy.
In my second semester of freshman year, something changed. I don't quite know what it was, but it worked. It got me off my lazy butt.
For the first time, I started jogging around my neighborhood. Voluntarily!
It could have been the growing realization I wasn't really taking care of my health. I wasn't eating junk and I wasn't being an idiot, that didn't account for the one sector of health I passionately endeavored to ignore. Exercise. Like someone in my English class said once, we have hundreds of bones and joints in our bodies, all built so we can move around. As mammals, as humans, we're supposed to move! I didn't believe in moving around unless a cranky gym teacher was involved.
Still, that wasn't doing me any good. According to my many Health teachers in the past, a sedentary lifestyle, or lack of exercise, practically paves the way to countless diseases. And--this is crazy--I learned that somehow, exercise gives you more energy. It didn't seem like I had anything to lose...
The process? I started running.
At first, it was downright pathetic. I didn't benefit from my imaginary muscles, mostly because they didn't exist. Why was I running again? In laps? And around the neighborhood? Gaaaah! Turn on the phone. Wrong song...
It wasn't easy--but I could do it. And somehow, for some reason, some way...I started to look forward to running. I grew to appreciate the resulting aches in my legs. Not because the pain itself was pleasant, but that it was there. Something was happening.
And it was. Even the minimal exercise I was squeezing into my daily routine was helping me focus on what I was doing. Before, I had thought that exercise for fragile little life forms like me was useless. Now, it was keeping me awake in class, amplifying my focus and energy, and even increasing my appetite.
Then, the second mile run of freshman year swung around. I ran with a friend the entire time, and stuck to her like a barnacle. I knew that if I fell behind, that was it. Gravity didn't work the other way around.
I ended up crossing the finish line at 9 minutes.
9 minutes!
I would have jumped up and down more if I had the energy. It was unbelievable, and now, an active aspect of my life. Which is why I'm celebrating now. Because of the energy--because of the music--I continue to run.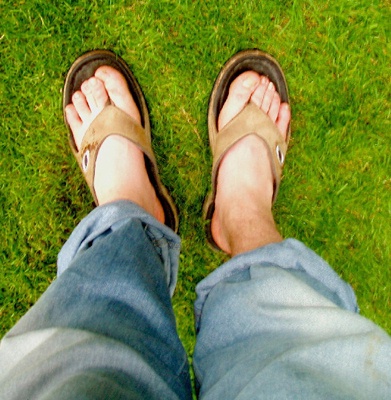 © Caitlin E., Sammamish, WA