Mall of America: The Construction and Popular Attractions
March 11, 2020
Imagine a place with a theme park, aquarium, restaurants, shops and more all located in one building. Imagine the shopping experiences, the thrills, the laughs and the satisfaction of choosing from a wide variety of foods. This may seem like a fantasy, but the Mall of America brings it all to life. Located in Bloomington, Minnesota, the Mall of America, also called the MOA, is one of the nation's largest shopping malls that arises from a diverse history and has jaw-dropping attractions.
The Mall of America comes from a fascinating and intriguing history. In 1982, the Minnesota Vikings and Twins migrated from the Metropolitan Stadium in Bloomington to the H.H.H. Metrodome. With this move, the 78 acres of land that the sports teams had once occupied was left empty and bare until the Bloomington Port Authority purchased the land and signed it over to the Ghermezian brothers, owners of some of the world's largest shopping malls. The brothers' company, Triple Five Group, designed, planned and built the mall in under three years. Finally, on August 11, 1992, the newly built Mall of America opened for the first time, presenting 330 stores and welcoming over 10,000 employees. Although the mall opened in 1992, it had multiple renovations and makeovers, the largest one being in 2008.
Along with the fascinating history behind the building, the MOA also has many jaw-dropping attractions and sights a person must see. One of the major attractions included in this fascinating mall is shopping. With over 500 shops and restaurants, the Mall of America has become one of the most visited tourist destinations in the world. The shops include everything from tech stores, like Apple, to designer boutiques, like Gucci. After a day of shopping, visitors can also get food ranging from fries to gourmet cuisine. Even if someone isn't interested in shopping, he/she can find interest in the other attractions found at the mall. The Nickelodeon Universe is a seven-acre theme park dedicated to electrifying and thrilling rides and all the Nick characters you can dream of. For tourists who aren't fans of rides, the mall also includes an aquarium packed with an assorted array of sea creatures, the Crayola factory, where you can learn all about the famous crayons, a 4D flyover of the greatest landmarks, mini-golf and more. Undoubtedly, there is something for everyone to do at the Mall of America.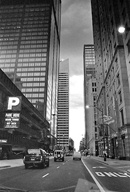 © Alexandra K., Chicago, IL