Ecuador, Te Amo
MAG
August 2, 2020
Vomit climbed the back of my throat like a hiker determined to reach the peak of Mt. Everest. I swallow the bile, nearly gagging. My eyes focus on the baggage claim carousel that seems to go around and around in a loop of endless boxes filled with other travelers' temporary lives. My own luggage never seems to come fast enough.
I can barely even see the carousel through the crowd of people, but I refuse to move from my spot at the back. One wrong step at the wrong time, and bile in my throat will have reached its peak. I see the people I'm traveling with, none of whom I had known 24 hours prior, and most of them were laughing. My brain can't even fathom the idea of something being funny at the moment. All I can focus on is pushing down vomit, silently gagging, and scanning the baggage carousel; determined not to embarrass myself in front of these new people any more. My panicked mind races, and the carousel runs around in a slow cycle, refusing to give me my suitcase until everyone else on the trip has theirs.
My feet tell me I am standing in the airport in Quito, Ecuador; while the clock tells me I should be sleeping, and my heart begs me to tell it why I have decided to take this trip. I won an 11-day free trip, although 'free' is a relative term because I'd gotten vaccines that no one would call cheap. They'd scared us through their insistence that we get the shots, beware of stray dogs, don't drink the tap water, and understand that altitude sickness is a real thing. But knowing there is danger is different than actually encountering it. After the bus dropped us off from the airport, and I'd nearly emptied my stomach onto the floor of the hotel lobby, I realized that altitude sickness is not actually a myth, and I should be seriously concerned. The sickness went away eventually, but the fear of disease lingered.
The first day, we all adjusted to our new home for 11 days; and the second, we tested the rough waters of spending every waking moment with the same people. By the third day, I became very close to three of the other girls on the trip, and the one who I hung out with the most was named Carly. I sat next to Carly on the bus, and we enjoyed ourselves more than we probably should have. We laughed about how I was the only one saying "no gracias" to all the vendors who walked by, and who somehow always returned to try again. She laughed about the horrible facts I told her about shark fin soup, and I laughed about a cooked hamster the waiter laid on our table one day that Carly actually tried. We both laughed about the work we did at the farm we visited, and my distaste for almost all the food the restaurants served us. We all took on Ecuador together, somehow brave in the face of newness.
One day on the latter half of the trip, the group began to climb a steep volcano named Cotopaxi, whose height brought a lack of oxygen and bitter cold. A few of us struggled and lagged behind, so we decided to turn around and return to the bus.
"What is this stuff falling from the sky?" Carly, who hails from southern Texas, wondered aloud.
"You mean the hail?" I quipped.
I took a photo of her wrapped in hefty layers, with her hood covering her glasses and the hail falling down around her. It was her first experience of something she may have never witnessed again. I think she tucked that photo into her heart's back pocket.
A couple days before we were set to return to the United States, I stood in an outdoor market, surrounded by tents, colors, people and thoughts. I remembered that the first piece of information I found about Ecuador before I came was that people will rob you. A woman will throw a baby at you, or a child will pickpocket you, and suddenly, you're stuck in a foreign country with no money and endless questions. As I stood there in the market, my mind pinballs, rolling around thoughts that neither escaped nor stayed still. My recently purchased drawstring bag clenched my shoulders tightly as I kept looking over my shoulder for someone who was not there. Ecuadorian vendors have a way of looking so deeply into your eyes that you feel as if your life may become worse if you walk away without buying what they are selling. As I ponder these thoughts, one approaches me.
"Tres por quince dólares," he offers.
I counter, "Tres por diez?"
"Doce."
I hand him $12, and now I have a bag that politely whispers "tourist," a stubborn insistence on being suspicious, and three bracelets generously sold to me at a lower cost than originally asked. Two of the bracelets have unknown final destinies, as they will go to recipients who will slowly fall apart from the giver, but the one that is left has a special place in the heart of its owner. One day I will find myself far away from this market, and the brown and turquoise speckled beads of that one bracelet will draw faint memory-filled emotions from me every time I notice its string around my wrist.
On the 11th day of the trip, the same bus that brought me to the first hotel and took me on a tour of its country, now brings me back to the place I started. It sends me off to a new life. Maybe I am not that changed, and maybe one day I won't remember any names or faces of the people I have met, but I have experienced something new, and embedded memories deep into my soul. I would like to think those count for something.
My heart beats a little too fast as I go through customs, in the same way it does whenever a police officer enters a room I'm in. Did I do anything wrong? No. But did I?
"Did you go to a farm?" The screen asks me when I try to print out a ticket to enter the security line. The question is a simple one, at least, it appears to be. Yet, because I answer yes, it becomes the surface layer of a printed ticket marked with a red flag. That ticket takes me on a trip down a special hallway through the airport. At the end of the hallway, I spend an hour with a customs agent. He speaks rough English to me as he scrubs the sneakers that walked on the farm until there is no trace of the farm left. And as I stand there and watch him, I know I will never forget this moment, especially because it also happens to be my first time re-entering the United States through an airport. Because I answered yes to the farm question, I do not get to say goodbye to Carly, and this absence of a farewell devastates me. We occasionally chatted and said we would visit each other, but words only carry meaning when carried out. Those 10 and a half days will have had to be enough. And honestly, I think they were enough.
Ecuador barely let me enter its borders without poisoning me, but once it had me in its grasp for 11 days, it wouldn't let me return to my own country without a fight. Somehow, though, on the 12th day, as I sit in my home in Massachusetts, I want to go back.
I probably won't visit a farm next time.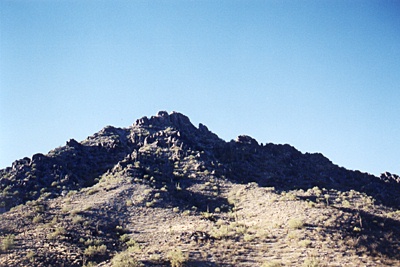 © Andy G., Phoenix, AZ