Road to the show
July 22, 2009
I guess I should have known. She had been hinting for weeks. Still when I was told that my birthday would be spent at a Jonas Brothers concert I wasn't sure what to think. I thought I should be a true OJD (obsessive Jonas disorder) victim and scream but I wasn't sure if it was some kind of sick joke so I just went blank.
On the road to the show, my friend and I had to find ways to bottle up our excitement. Of course, we listened to music especially Jonas Brothers, looked out the windows and move up very unusual games that neither of us would ever forget nor out grow.
Off the road, at last, but the excitement has not subsided in the least. At the hotel my mother dropped to the bed immediately. My friend and I on the other hand spent the next hour or two getting ready for the concert. We both showered, get dressed and eagerly awaited 5:00pm. The concert wouldn't start till 7:00pm, but we could only imagine what chaos it would be to get parking.
Well, 5:00pm came and we were gone. Once we reached the arena though things went a little sour. Traffic was backed up for miles and both my friend and I were completely freaking out. Oh boy, trust me it was one of the most stressful and loud times of my life. Once our car got to the entrance of the parking lot, we lost it. None of us could figure out why everyone had just stopped and when we finally figured it out it was just one of those "are you serious" moments. There were parade floats crossing the road at about 2 miles an hour. People were honking and yelling and it was just crazy. Inside our car, we were all beating the floats with an imaginary stick. My mom was even getting in on it. It drove us crazy in fact there was even an exact schedule to our madness.

1.
Lots of screaming and trying to hurt the freakishly slow floats.
2.
Hysteria kicks in and the tears and giggles begin.
3.
Quiet, to angry and frustrated to speak.

Eventually the floats passed by and our faces returned to there natural color. It took us a lot of tears and wrong turns but we finally found a parking spot. The only problem was that our spot was super far out; there were no lights so we couldn't see, and we were already late. We ran like crazy and by the time we got to the parking lot I could hardly breathe. Still both my friend and I kept going and once we saw the entrance, I swear I could hear the angles going "ahhhh".
To our surprise when we found our seat nothing was going on. There was other people trying to find there seats and security guards milling about but other tan that nothing. After a few minutes though, what we later found out was, the second opening act came on. They were 5 guys in ripped jeans and T-shirts and they turned out to be pretty cool and that night I became a fan. Rooney played a few songs but it was clear who everyone was there to see when those 3 spotlights hit the stage everyone went crazy.
The rest of the show was amazing. There were fire extinguishers, trash cans, flips, practical jokes, water being thrown, and of course lots of screaming. Most people have there own specific and sometimes rude opinions of the Jonas Brothers but no matter what, that was probably the best night of my life. Watching them on stage and seeing how time just seemed to melt and the joy on theirs and everyone else's faces just made every thing go away. If I couldn't talk for a week afterward who cares, if I made a fool of my self who cares. What happened the next day didn't really matter. The only thing I thought about was what was happening right there and then and I loved it.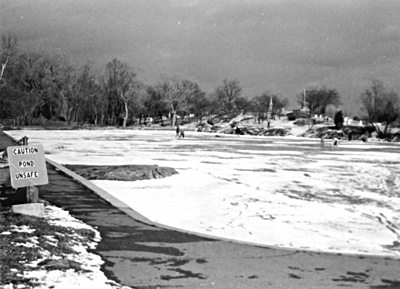 © Caitlyn O., Marblehead, MA