A Sight for Ignorant Eyes
April 10, 2013
"Come on guys, keep up with the program!" my dad yelled to me and my seven siblings as we staggered behind him on the busiest street of Santiago. We were searching for a place to eat before we returned to the tiny stone house with a roof made of straw, which we had been drawn to call "home" during the few weeks we had been in the Dominican Republic. My parents figured the popsicles they had bought from a peddler on the side of the road, would not be enough to keep us all stuffed for the rest of the evening. We walked down the road, and everything around us was in a chaotic jumble, cars zooming, people racing, animals wandering.

We passed tons of fruit and vegetable peddlers from whom we purchased an odd looking fruit called "snots" that were about the size of grapes and bunched together in the same way. Aside from the weird name and appearance they were the most delicious fruit I had ever tried, so luscious and flavor filled.
The atmosphere of Santiago was very interesting for us, because we had never seen anything or anyone like we did there back in America. Everything sold there was practically dirt cheap, and I think my dad would have bought us all a life supply of one cent soap bars if he could; however, we were traveling home on an airplane and the the price for the extra baggage would have outweighed the money we would save.

Since we were all starving we finally agreed on a little hole in the wall pizza restaurant to eat at. My parents seemed a little disappointed that we hadn't selected a place with "foreign" food to try, but the pizza restaurant turned out to be an extraordinary place. They had a painting on the outside wall of a pizza parlor that was so realistic I almost walked into it, thinking it was the inside of the building, and the food there was almost as good as the painting. After we finished eating we had to walk back a couple miles to where our driver said he would meet us. We had a driver because the rules of the road were different there, and it was hard to find our way around this rushing city.

When we woke up the next morning, my oldest brother, Alek, who had lived in the Dominican Republic for a couple of years already (and was the main purpose of our trip) said that we were going to visit a waterfall that day. So we all packed into the fifteen passenger van we had rented. The van was just like the one we had back home in America, which we had owned ever since I could remember.
We were driven down a long, bumpy road for a while until the driver said it was as far as he could take us; because, the road we had been driving on broke off into a tiny trail, only wide enough for a couple people to hike on. We practically jumped out of the van, since we had all developed a severe car sickness thanks to the bumps on the road that had been jerking our van up and down.

My mom started to fasten my baby brother and sister who are twins, into a strange papoose contraption that hung on her back. My two six year old sisters who are twins as well, laid on the ground with their eyes closed and their tongues sticking out as if they had actually died from queasy stomachs, although I have noticed that every dead person I have ever seen on television has not had their tongue sticking out like everyone does when they pretend to die.

After a small rest we started to hike up the winding path. After about a half an hour we reached a building that resembled a church. Alek told my parents it was a monastery, which he explained to me and my little siblings by saying, "it's the place where the guys with long robes and hoods worship God." There was a rather large gate standing between my family and the rest of the trail. We assumed that it had been placed there by the monks. My dad asked Alek how he got past the gate when he came here before, but Alek said they must have come a different route than the driver had taken us, because they never traveled past any gates or monasteries.

Unlike normal families who would have turned around and gone home, or maybe even asked the monks if they could pass through the gate, my family decided to try and make it over the gate. My dad insisted, "we haven't come this far just to turn back." I slumped onto an oversized rock that was laying on the side of the road, resting my face into my palm. I wondered how I, being a nine year old, could have more common sense than my my own father.

My dad and older sister, Olivia, started to shove Alek over the gate, they pushed and pushed until he finally tumbled unto the other side. He would be the one to catch the little kids once we hoisted them over the gate. However, first we pushed my mom over to help Alek, so that the little kids wouldn't be as nervous about being chucked over a ten foot tall gate. After we got her unto the other side we started to lift up the little kids one by one. It was then that a strange man ran out from the monastery waving his hands in panic.

After the man got closer it was not hard to tell he was a monk, since he had been wearing a heavy brown robe with a large sinking hood pulled over his head. He was speaking in another language and we could not understand what he was saying. My dad and brother only knew enough Dominican to get around. The monk tried to communicate to us that we were not allowed to climb the gate, but most of us were already on the other side.

The monk pulled a key to the gate out of his pocket and twisted into the gate until we heard a loud clink. The the gate slowly drifted open we were allowed to pass.
My dad realised that it probably would have been a good idea to ask the monks if we could pass in the first place, but we kind of wished he had realised that before throwing us over the tall, sharp gate. The monk stared at us with a scrutinising look on his face as we started to hike up the path behind the gate.

After a couple minutes of continuing up the dirt trail, we were greeted by a tropical forest. It smelled of sweet fruit and dewdrops, and there were exotic plants sprouting all around us. We saw a tree producing tons of banana bunches. There were a couple bunches on a rock below the tree which we figured no one would mind if we ate. They probably would have gone to waste way out there in the forest anyway.

Back in America I had refused to eat bananas. I thought that they were disgusting and I said I would never try one again. But the hunger rumbling in my stomach overruled that decision pretty quickly. I popped a bite of one into my mouth, and loved it. It was so fresh and sweet, I practically felt the flavor whirling around my body. later on I discovered the reason that bananas tasted so much better there than the ones back home, was because they weren't genetically engineered by multi media food conglomerates like the ones that we would get in America. Obtaining that piece of information again brought me back to a bannanaless diet.


We had been laying around enjoying ourselves among the various trees and intriguing plants that surrounded us, when suddenly my dad put his finger to his lips drawing us into silence. Suddenly a hush fell over us and suddenly we could hear a rumbling coming from the distance. We started to travel towards the sound, then we came up to a large curtain of branches draping off of the trees and cradling the fruit scattered on the ground like a baby in a mothers arms. We started to push through them and were immediately exposed to a booming 40-foot waterfall.

You could say it was a sight for ignorant eyes, I had never seen anything so majestic in all of my life. We all dove into the lake beneath the waterfall, but my sisters and I started to screech right away. The water surrounding our bodies was bitter cold, we practically flew out of the lake.

Alek started telling my dad about the time his missions group had been here and they all dove from the top of the waterfall. My dad said that he my mom and Olivia, who was only 12, should give it a try. I started to become very nervous that something would happen to them when they jumped down, but they all started to hike up the side of the waterfall.

My younger siblings and I observed from below while dipping our toes into the icy water. First we saw them talking on the edge of the rock above the waterfall. I assumed that Alek was telling them how to make the jump correctly. Then he leaped off the side of the waterfall catapulting deep into the lake. When he arose from the water his face was purple, and the shivering coming from his teeth was so loud I could hear it from where I was sitting.

Then jumped my dad, he stayed in one robotic pose the whole time he fell, we still tease him about it to this day. Then off jumped Olivia. Her frail little body wobbled all around as she fell down the waterfall like a rag doll being dropped from a high place. Then last of all leapt my mom. When she swam up to where we had been sitting, I hugged her tight and told her how proud I was of her for making the jump. I then sort of wished that I as well had jumped, but never voiced my feelings in fear that they might actually let me. We lingered for a while, but heard the start of a thunderstorm so started to head back to the spot where we would meet our driver.

After a while we finally made it back to the three-room hut where all nine of us stayed, and everyone except me fell asleep seconds after hitting the pillow. I, being my restless self, scampered quietly out onto the stone patio around the back of the house, and sat for a while watching the bright moon rise above the trees, and the mountains. I remember thinking to myself how much I never wanted to leave that magical island, where I truly met myself for the first time.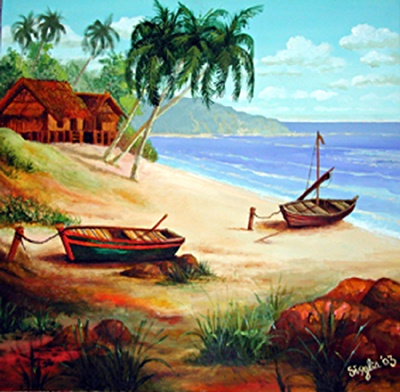 © Sisylia O., Surabaya, Indonesia