Guatemala
August 26, 2013
As the airplane descended upon the mountainous region of Central America, I was suddenly overcome with the beauty of it all. Even though my cousin refused to give up the window seat of yet another plane in her history of traveling, my view from the aisle seat was still breath-taking. From the mountains and volcanoes reaching up into the clouds to the tiny shops with homes stacked on top, Guatemala City was gorgeous from my view in the Delta airplane containing me. I wanted to look over to the father and son sitting next to me and exclaim the wonder of God, but instead just stared outside in awe. Upon landing, I was taken over by my surroundings, the culture, and the people of the wondrous Guatemala.

As I wheeled my luggage down the boarding ramp, I had men in their 20's or 30's trying to help me through the airport (for a small fee) which we had been warned of ahead of time. They took our bags for us anyway and so we had to tip them in the end. Customs were easy to pass through and when we found our way out of the building it didn't take long to find our driver—or for her to find us. Our traveling band of "Gringos" –white people—were easy to spot in the crowd. Our drive from there, hectic because there are absolutely no traffic rules, took us to a small guest house in a gated community where we were served exquisite homemade meals. (Upon returning to America I found the greatest struggle was accustoming my body to processed foods.)

Being there on a missions trip, our host, Edwin, showed us around the city. Suddenly Guatemala City wasn't such a treasure to me as he showed us the Dump, the cancer center, and effects of the no adoption policies in Guatemala. The Dump, 24 football fields wide and long, was the place where thousands of hungry, dying people congregated to search the trash for a glimpse of treasure they could sell. Upon hearing of the people who lived there, we also heard a startling statement that had come from many of these people: "Because we have been digging through trash so long, we feel as if we have become trash." We also went to a daycare where a two year old had been abandoned for four days because his parents could not return for him. Our visit to the cancer center brought sorrow, yet the smiling faces of the kids brought a hint of joy in a place so void of hope. The most devastating thing that happened to the country though, was the closing of all adoptions. It now means that, to make room for young children, orphanages must release twelve and thirteen year olds into the world much too early. Many join gangs; anything to be a part of something.

That first day was exhausting, but we found that traveling to Hue Hue Tenango, seven hours away, could prove to be more difficult. Our third day, we stopped at an orphanage where I met a little boy named Antonio. Thrilled at the chance to use the little English he knew, the ten year old showed us around and talked to us as much as he could. His eyes screamed at us that he just wanted to belong to a home, a family. While the place was full of bubbly children, I felt sadness to think he would never know what it was like to have a mother, or to have his father sign a field trip permission slip for him to go somewhere with his class; the simple things we take for granted.
Our next drive took us to Soloma where a huge crowd had gathered simply because there were "Gringos" in the market. So many came from all different directions as they heard the sound of Hilde's flute, Edwin's guitar, and the Gringos singing. As we handed out the small, beaded bracelets we had made which explained God's salvation, it was a blessing to see people so hungry for the word of God. And yet, some were so desperate for something else. My cousin got her phone stolen by a woman with her baby. She had earlier been seen reaching inside the purse of one of our other group members. My cousin's attitude about it was one to be admired though. She stated that she hoped the woman could get a good price for the phone so she could feed her family. What I also discovered is my height of 5'2" was incredibly tall for a 15 year old! I will admit, that made me smile, as I countered, "En la….(U.S.?)…..soy baja!" telling them I was short in the U.S.

Our fourth day, we had the chance to go to the market, where raw meat hangs in the stinking air, next to handmade skirts and flowers for sale. Emaciated dogs cowered as they weaved in and out of the foot traffic, leaving the unaccustomed Americans puzzled at their horrible treatment. We then traveled to Edwin's coffee plantation. While there, we attended the church service and told our testimonies. The women there were so self conscious about having their picture taken because many were missing teeth so it was actually a privilege to tell them about how I used to be self conscious about my teeth. That night, our group went to visit a family. The man of the house told of his struggles within the church, that rumors were being spread about him that hurt his wife. It was honestly a bit of a shock to us because many of us had gone through the same thing. Explaining to their family the gift of God's love and how He uses trials to strengthen people was an experience all its own. When we saw them the next day, they had a new light around them.

Day five, we did a vacation bible school which definitely gave us a different perspective on the region. Many of the kids spoke Mum, a language that branches off Spanish, but there were still a lot of differences. That made communication more difficult, but we still managed to play the Hispanic version of Duck, Duck, Goose, or Pato, Pato, Ganzo! It also took a lot of convincing of the boys to allow the eight year old girl in our group to play futbol with them, as they usually don't allow girls to play.

The very last place we visited was Arenal, where the crops don't grow and a kind gesture can go a long way. It's where the preacher sometimes doesn't eat in order to feed his congregation and the children need a gentle voice. This place broke our hearts as these kids had next to nothing. We hosted an event for another vacation bible school which brought over a hundred kids plus their parents to the small place we had picked outside of the local church. The kids, with clothes worn and torn lit up at the idea of Pato, Pato Ganzo and loved being able to color and get new shoes, which were most definitely needed there.

We've already made plans to head back to the beautifully heartbreaking country of Guatemala in order to heal a few more hearts and change a few more lives. On our conquest for a healed world, we will start in these places of no hope. I pray that every single person we see on our next trip has the same light in their eyes as those kids in the cancer center. That way, even though they may not have things like daily food and clean water, they can start with the hope that God will see them through it. My only wish is that the people of Guatemala would find within themselves beauty to match the surrounding mountains and volcanoes and wide skies.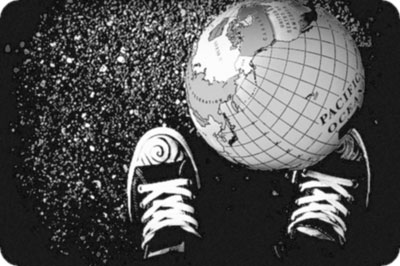 © Kailey E., Crownsville, MD