Mosquitoes and Green Curry
November 16, 2013
I looked out of the window. Below me was the stuff of legends: Emerald green hills, humid mists, serpent-shaped rivers slivering among the fields, out-of-the-way villages.

I was on my way to Phuket, Thailand. But as the plane flew over Northern Malaysia, I felt anything but excited. Either a fire ant or a mosquito had stung one of my toes, and the excruciating pain was irritating me.

In a vain attempt, my mom had tried to search for a tube of calming creme in her purse, an item I've been all too accustomed to on trips overseas. She finally resorted to squirting some hand sanitized on my reddened toe, to "kill the germs."

What a painful experience!

My cousin Jonas was sitting next to me. He's a funny one, and his childhood innocence made me laugh in spite of myself.

But I had just spent a few hours in the rich island-city of Singapore, and I wasn't exactly prepared for living under the dirty conditions I thought to be common in Thailand.

As the plane flew into Phuket airport, I could see the large green leaves of tropical trees fly past my brown eyes.

The check-in process was anything but comfortable. This airport was so different from the five-star atmosphere I was used to in Singapore. Besides, my toe was starting to hurt again.

Three hours later: My aunt and uncle checked us into our hotel rooms. I must admit, the hotel was more satisfactory than the airport. I felt awful. I had always wanted to travel to Thailand, but my stupid toe was ruining everything. I blamed my pain on the tropical air, on the spicy breakfast Pad Thai, on the swimming pool outside of our room.

The next evening we went out into the streets. Again, the tropical air hated me. After fifteen minutes of confusion, my grandpa found an open-air restaurant that looked and smelled scrumptious. We took a seat. I was scowling the entire time.

But my sadness soon faded. My grandpa, a true connoisseur of world cuisine, ordered Tom Yum soup, white rice, green curry, pad thai, and tea for the entire group. I ate to my heart's content. And that green curry! I will never be able to eat green curry in the United States the same way again.It was the creamiest, thickest, most savory Thai curry I've ever tasted.

The next day we took a stroll to the beach. I was again back in my pity-party mood. Being out in the busy streets of Phuket during the middle of the night had marked me rather negatively. I was extremely cautious. My mom called me to be patient. I was anything but that.

My small cousins ran out to the shore, soaking up the Siamese sun. My mom didn't allow me to go out into the water, considering the countless number of mosquito bites along my legs. I was almost thankful.

The sand was white as chalk. It WAS gorgeous, would be even more so had it not been for the bird droppings freckled over its surface.

My trip got progressively better. The days were filled with sweet mango rice desserts, Thai reality TV, elephant-embroidered coin bags, sunscreen, and watching monks start their daily trek past our resort.

Finally it was time to leave. I had enjoyed myself as best as I could with a sore toe, but Phuket was to be missed. Before we were about to board the plane, I walked into a gift shop.

The shelves were decked out with resin elephant minis, gold-encased rings, and bags of spices. I realized at that moment just how beautiful Thailand is. I was too happy for words at that moment. Despite all of the bug bites, at least I had gotten a chance to visit Asia.
I returned to Singapore later that day. A week later, I returned back to the US of A. I cried the day I left Malaysia. Fast forward a month later, and I missed Phuket and Malaysia as much as I had the first day of school after my trip.

I fortunately visited Malaysia again later that year. I stayed there for two months. I'm always happy to return to SE Asia. I haven't returned to Thailand, but maybe one day I will visit again. Maybe Bangkok. Or Chiang Mai.

I realized that experiences like those I had in Phuket help to form our personality. I wouldn't be the person I am today if it hadn't been for that moment on the beach. Or that taste of bubble tea. Or that gaze into the forest.

So next time you go overseas, remember to enjoy your experience. Even if you get a sore toe, take it as a part of a story you can bring back home and tell your friends.

And stop to try a little bit of green curry along the way. Trust me, you won't regret it.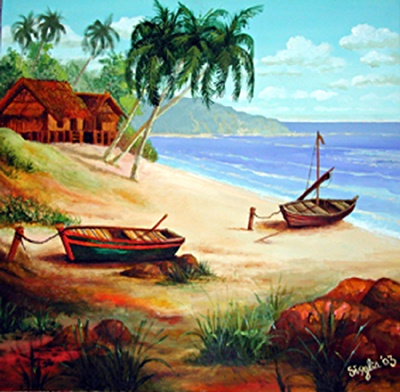 © Sisylia O., Surabaya, Indonesia