THH: How to Make This Winter Break Laaast
December 26, 2014
On this end, Winter Break has just begun! With a bang and a poof, Finals have finished and now most of us have a different problem on our mind: how to make Winter Break last. Long.
So, combining the ultimate forces of my right and left brain, here is my guide to making this Winter Break feel like it is actually two weeks: and hopefully even longer.
1. Let's. Do. Stuff.
And in terms of that, everything. Try snowboarding. Take up knitting (and send me your tips when you do). I'm not even kidding: filling up your memory with varying activities makes fifteen days seem like a lot more than it actually is. So that means say good-bye to five-hour exhibitions of mindless phone gazing. Get together! Get going!
2. Eeeee! Selfie!
Take some pictures along the way—and make them funnnnn. With the #selfie craze going on, that seems like a given. But let's edge out of lip-pouting narcissism: get a few snapshots of your little sister, or older brother (or vice versa). If you celebrated Christmas, make gosh darn sure you'll remember it for next year. And don't forget to get some fantastically epic shots of the snow out there, something that is still blatantly non-existent over where I live. Okay. I shouldn't be bitter.
3. YOU BETTER CLEAN OUT YOUR ROOM YOUNG MISSY.
Hahaha. Well, maybe I'm not your mom, but if you're even remotely like me, your room is in constantly cheerful chaos. Abandon that lax habit! Dream of a dust-free zone! As weird as it sounds, productivity often makes your Winter Break seem fuller, and cleaning out those thousands of drawers is one step forward.
4. Moderate, and Also Don't Moderate.
I agree, that was a bad paradox. But like most paradoxes, when you think about it, it mostly makes sense: this Winter Break, make it the first you did not save all that awful homework for the last few days. Ten or fifteen minutes a day can't be too bad, and is a whole lot better than that teary six-hour cram on Sunday night. We've all been there, my friend.
And yet at the same time, don't moderate. Life is the sum of extremes, if it is anything at all. Although homework might not be a good application, you do want to tease your comfort zone a bit. (And that means healthily. There is only regret looking back at this Winter Break knowing you made some ridiculous decisions trying to dangerously induce emotion; there are so many other ways to just chill out, and have fun with, say, some friends. Come on.) Get together with some friends for a Holiday Party, and yoke out that karaoke like nothing before. Finally get your family fancy presents for New Year's, and make them cry with happiness. Cry a bit yourself. Write something crazy and amazing and fantastic—and you'll be able to make this Winter Break laaast.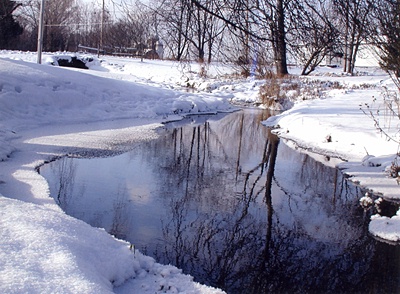 © Alex B., Rome, NY