The Taste Of Culture
February 8, 2009
The warm summer air danced around my cousin's home. I sat there, watching her little boy walking, falling each time, but so determined, like the heat that was trying to make me become fatigued. The smell of fried onions and garlic filled the air, and then I jerked out of my trance at the sound of a heavy knock on the door.
'Isse kaha per bunana hai?' asked a gruff voice. The man's face was the color of milk chocolate. His white, stiff clothes were slightly soiled with dirt, as if he had been in a brawl.
My cousin replied in Urdu, 'You can put it on the porch and work there. Do you need any ingredients?'
'Nahi. Sirf pyali chaye hain,' said the other man.
'Here are the bowls,' she said again in Urdu.
' Fariha,' I asked my cousin, ' why are these men here?'. A smile spread across her face, and turning around, her short black hair moving like a curtain, she said it was a surprise. What could it be? Will they plant some beautiful flowers? What were the bowls for? I thought, making me more curious about those two men. I saw her hazel eyes twinkle like they were trying to tell me something. What could it be?

My sandals slapped the porch as I walked. It was so wonderful to be in Pakistan, and I was eager to visit all of those unknown relatives. The sights and the land was beautiful: huge vines overflowing with jasmine, its smell so powerful, beautiful lemon trees, their blossoms so fragrant, modern cities bustling with cars and taxis, the air filled with pollution, blood red sunsets, so many monuments from the past. In contrast, I saw quaint little towns with fields of jewel green grass, so fresh you could smell it and adorable, rustic homes, tiny but so neat and pretty, similar to my cousin's. The creaking noise of the boards on the porch snapped me out of my daydreams. As I kept walking, I noticed a man had a bucket and was churning something inside of it. I thought it could be something for plants, but a sweet smell was coming out of it, like a dessert. As I went inside, I could still hear him, which continued for three more hours.
Scraping noises and the chinking of glass signaled the end of dinner. It had been chicken, spiced with red pepper, lemon juice, olive oil, among other spices, like cumin. The pita bread with it and the red pepper spiced potatoes was a meal I loved. I grabbed as many dishes as I could and went to the kitchen, walking slowly and stopping every few feet, like a bride going down the aisle. My curiosity led me to the porch. The man was now churning something that looked stiff and white, adding pistachios and a powder that was the rainbow itself. I now speculated it was ice cream. Yay!! We get to have ice cream. I hope it's good. What will it taste like?
These questions swirled in my head like fog. My mother called me inside and I went as fast as I could. I felt the carpet come under my feet, and the room whirled around me as I came crashing down. I picked myself up, my elbow sore from hitting the rug so hardly. Apparently there was a surprise treat for everyone.


My cousin went back into the kitchen, carrying the dishes from dinner. I could hear the opening of the freezer and spoons clattering like an off-beat tune. My cousin came, a tray in her hands. On it were blue glass bowls, like some type of rare flower. The ice cream was full of pistachios and truly a sight, rich with every color of the rainbow. The smell of mango filled my nose.


Now came the time to taste it. I lifted up a tiny spoonful, my hand quivering like there was a small earthquake inside of me. I could now strongly smell mango and pistachio in the ice cream. My mouth slowly closed around the spoon, and my brain was completely frozen for a moment. I could tell I liked it; a grin spread across my face, and my taste buds yearned for more. I had never tasted anything like this before, and it was truly a taste of culture for me.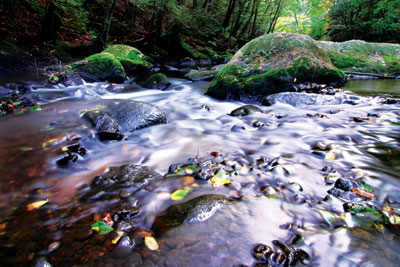 © Matt S., Glastonbury, CT