Writing is my sanity
September 27, 2013
If only I could write and do nothing else. I love the feel of a pencil under my hand. The way the words flow so easily from my mind and soul onto paper as if that is my life purpose. Writing is my only sanity. I am NEVER not talking crazy fast, flying from one subject to another like a retarded squirrel. But when I write, my thoughts suddenly become clear and smooth. It is almost like a drug, I cannot get away from it and I never want to. When I go through crap and everything seems to make no sense what so ever, I write it down, and I can relax at last. I cannot even tell what I am feeling until I see it on paper. It is so incredible that I can communicate with other souls without even looking up from my paper. I can fly, and soar and be everything I ever dreamed of being.

There is nothing like it, the way I feel while the words come and flow in a clear and distinct way. Sometimes my hand seems to have lost control and the pencil flies away with my thoughts and does not give me time to even realize what I wrote until I re-read it. That does get a bit scary though. I feel power, I am not a power seeking person at all but when I write I am on top of the world and nothing can touch me or change me. I get so filled with passion that I feel I may burst unless I can let it out. Writing is my outlet. It always has been. When I went through depression for about 2 years strait, Writing was the outlet when the agony was too forceful and demanding that I no longer could keep it in. I would run to my room sobbing and unable to stop until a tear stained page had been written, poetry especially.

I will never stop writing. I will never lose that escape from the chaos of this world as it turns and flips me over and around giving me no time to float up and gasp for the breath that it demands to steal. I would die without words. I would lose all the sanity I have left, I would fall on the ground and lay there, stunned to paralyzation by the overwhelming pressure of the combination of being a teenage girl filled with emotions and chaotic happenings that ruin everything I know, or think I know.
My mind is always full, it is always racking possibilities of horrors happening or how I might have changed this or that in my history, but with a pencil, with a pencil I am free of the thoughts I cannot escape. The room in my head stops being cluttered and becomes a room of order and suddenly makes perfect sense. It is heaven.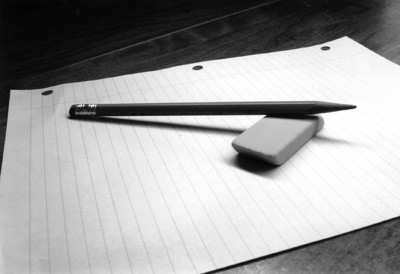 © Michael H., Mildford, CT