Monday--Just Another Day
February 3, 2014
It is the day that shall not be named. Its sound makes you cringe even if spoken in hushed tones. It makes you want to crawl up in a ball and hide under your covers until the 24 hours are over. It's the end of the weekend. It's the start of another hellacious week, whether it is at school or work. It's the starting line to a race that many do not want to run. Monday.
From ages 8 to 80, as soon as we understand the concept of a work week, Monday is a day to dread. No one wants the weekend to come to an unavoidable end. But the week is just that--unavoidable.
The weekend is full of thrilling things. Maybe you 'turn up' at the biggest parties. Maybe you sit in your room with the blinds closed playing Black Ops. Maybe you destroy your family at game night because you have a not-so-secret obsession with Scrabble. Either way, in those two days of freedom, the weekend is your oyster.
Soon Sunday night rolls around and you find yourself with tears in your eyes and unfinished homework filling your binders. You let out a huge sigh knowing that in just a few hours, you'll be rolling out of bed to the beat of your screeching alarm clock. Racing to the bus stop, you'll realize that you forgot to put on pants. Again. Just like last Monday.
But maybe there's a solution. Maybe if we looked at Monday as just another day, the blessed sun that Annie sings about will come out today, and not tomorrow. Why should we let a day on a calendar determine our happiness? We don't judge books by their covers, so why judge a day by its name?
Treat Monday like Friday. Better yet, treat Monday like Monday because so many delightful things can and will happen. Someone will get married in Las Vegas to their high school sweet heart. Someone will get an A plus on their English essay that they stayed up all night to write. Someone will try their first taste of Chai tea and become addicted. Someone will learn to bake the most exquisite red velvet cupcakes with butter cream frosting. Someone will celebrate a birthday. Someone will be declared cancer free. Someone will read a book or hear a song that changes their life.
Bad things do happen; there's no denying that, but one thing is for sure: good things, just like bad things, are not limited to a certain day of the week. Any day can be the best. So maybe it is hard for you to get out of bed at 6 a.m. on Monday morning. And maybe it is sad to see the fun of the weekend disappear into the past. But Monday is unavoidable. So wake up with a smile, make sure you're wearing pants, and face the day just like any other.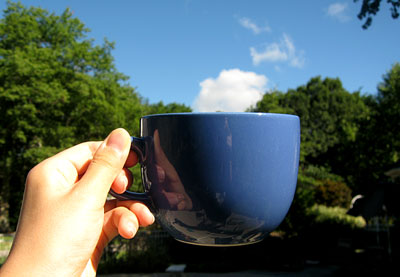 © Chae Lin S., Providence, RI