Less CGI, More OMG
MAG
June 15, 2017
After a while, an action movie can start to sound like a construction site. Kapow! Pshhhhh. Piu piu piu. BUH BAM!
Movies today bank so much on special effects that we're practically immune to everything. Franchises compete with each other – and themselves – to make bigger, badder fights. And as buildings fall, people fly, and monuments descend in smoke, the wow factor becomes less reliable.
In fact, the last time I remember feeling truly amazed in the theater was during "Doctor Strange," where warlocks making a mandala of the London landscape also turned my stomach. I can't recall another time I felt truly impressed by special effects. It's routine to see people flying, people fighting, and people dying epic deaths.
Last summer, "Captain America: Civil War" blew people's minds like it blew up cars in the theater. But Cap's dilemma stuck with me for another reason. The root of the film's conflict was something I hadn't seen before – that collateral damage has a cost. Although "Batman v. Superman" apparently had the same theme, as well as one Bond movie, I was shocked to see the Avengers called on by the United Nations. They were shown a montage of videos from almost every Marvel film, to open their eyes to all the people hurt or killed by the debris of their battles.
The movie's story line shows more than a hundred countries in the world set to pass an accord that will control the team's actions. Cap is unable to reconcile their accord with his own beliefs – that the Avengers should be able to operate independently. He simply can't believe some human loss should result in inaction. The team falls apart.
Watching, I couldn't get over how directors Joe and Anthony Russo pulled the rug out from under us. The Avengers were suddenly more real to me than ever, over an issue I had never contemplated. It was during the movie, and not before, that I realized every person's actions have consequences, superhero or not.
CGI plays a part in this, as technology
allows people to film huge action sequences with even less materials even more realistically. We are able to see things that might not otherwise be possible, action that is amazing, breathtaking, epic. What we often don't see is the battered aftermath, the effect on innocent bystanders. With many new movies, this becomes normal, the decorations of a properly dressed action movie.
And because we know and love these characters so well, they become real to us. Watching them fistfight baddies, find love, and throttle evil creates a power fantasy without boundaries. Even in high school, it wasn't too late for one film to change the way I see big battles. If we don't see accountability for the increasingly spectacular damage wrought on the big screen, we are quietly permitted to neglect the effects of our own actions in real life.
CGI might not be the problem, but how it's used is. It should feed the shock and thrill people seek when watching action movies, but not take away from the fact that fighting for the greater good is not always all good. Decisions have weight, victory comes with loss, and
winning is rarely clean.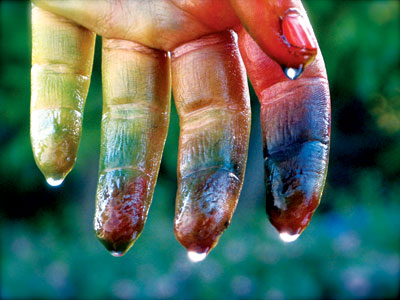 © Allison F., Menlo Park, CA