Celebrity Obsession
MAG
Our society is obsessed with celebrities. If you step back and look at the whole picture, it's really pretty ridiculous.

On the first day of school, instead of catching up with her clique, one girl was decorating her locker. A close friend broke free of the others to check it out and stopped in her tracks, stunned.

"Omigawd! I love him!" she yelled.

The locker was plastered with pictures of that hot kid from "She's the Man" and "Step Up." What's his name? Neither girl was sure, but they'd know his body anywhere. That's what counts ... right?

Two weeks into school, Locker Decorating Girl is assigned a current events project on the Middle East.

"I don't have time," she complains. "It's not like anyone cares."

This is coming from a girl who has time to find pictures of what's-his-face to cover her locker. But she knows what's important: the release date for "Pirates of the Caribbean 3;" Zac Efron has gone brunette; and Brad Pitt and Angelina Jolie still aren't married. That's what counts ... right?

It's been suggested that teens who obsess over celebrities often have poor relationships with family and peers. But why do everyday teenagers follow every move of favorite celebrities? Perhaps because an average person's life can't satisfy their love for drama, they turn to the country's icons, whose lives are faster and more interesting. Celebrities are portrayed as beautiful and indulge in anything they want. Their faces appear everywhere and we idolize them, we want to be like them.

By following their doings, society lives through them. Preoccupied with a favorite celebrity's mishaps, personal troubles are escaped. It is logical that teens with emotional and social problems worship celebrities. They might think that a celebrity would understand their problems better than friends or family. They create illusions and fantasies that convince them they have personal connections with their idols.

So what began as watching a few movies starring some no-name actor sprouts into a full blown emotional problem that could impact a life forever. But that would never happen to you ... right?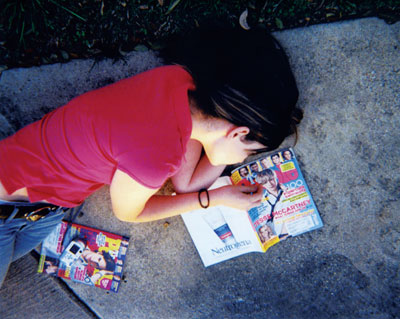 © Anonymous