Passing Judgement
November 23, 2013
People look at one another and immediately judge based on appearances. Of course, this is nothing new. It's been happening for quite some time, but our judgement has seemed to increase over the past few years. However, even more important than our inability to look at someone without filing them into one clique or another, is the absolute impossibility of looking in the mirror and not seeing only our flaws.
When I look in the mirror the criticism immediately begins. My nose is too big, acne makes me look ugly, my lips are too thin, my hair is too frizzy. That is what stares back at me when I look in a mirror. I of course immediately assume that it's what others see as well. They call me soulless for the simple fact that I was born with red hair. It's hardly something I should be faulted for since I had absolutely no say in the matter. Yet, it has led to deep rooted insecurities. I'm torn between loving my hair because it's different and beautiful, and despising it because other people don't accept it.
Why isn't it enough for me to just like it? The only plausible conclusion I could draw is this: society. With that in mind I would be ignorant to say that none of the fault is mine, for I am part of society. I can complain about society all I want, but I'm a hypocrite if I can't accept some of the blame as my own. If I want society to change then first the change must occur in me. When I stare for endless minutes at myself I'll no longer see the faults in my features. Instead my eyes shall seek only the good.
My eyes are a gorgeous jade that shines like emeralds, my cheekbones are high and severe, my hair is wild like me. In leaving behind my insecurities, I'm leaving behind the confines and chains of society and of course myself. I can't accept others if first I don't accept myself. My flaws shape who I am just as much as my strengths do. In approaching myself as a whole I open myself up to the wonders of the world. For only if you behold the beauty within can you gaze upon the beauty outside.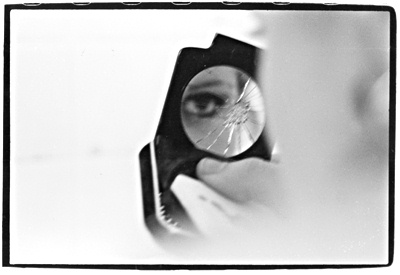 © Heather W., No., Brunswick, NJ