THH: Ebony, Ivory, Gold
February 11, 2017
Picking up Maya Angelou's I Know Why the Caged Bird Sings, I was expecting something of a whopper. I was snooping around for my summer book club, and wondered if this was the one.
Reading, I was musically moved by Angelou's natural poetry, and shocked by the hallmarks of her childhood. Growing up, Angelou, née Marguerite Johnson, lives in the quaint town of Stamps, surrounded by an all-religious grandmother, guardian angel brother, and the pure power of words. She constantly wonders about her absent parents, living far away, who exist as a figment of her imagination. And when she finally visits her mother in San Francisco at the age of eight, she is cornered by a man many times older than herself, and forced to live with the silence for years to come.
When I was reading, I couldn't help feeling a little disturbed by the vehemence with which a younger Angelou hated whites. That included everyone from the rich white folks to the "powhitetrash," who were separate from the capitalized "Blacks." Feeling stupid, I reminded myself the book was published in the 1960s, when a tide of change was roaring down on America, and things were unimaginably different. I wouldn't dream of saying that today, that I was worried I was misreading this, finding hate in a praised classic. Besides, the "whites" Angelou encountered were pretty awful too.
I remembered my mom sweeping past me before I watched The Help years ago, the recently released movie based on the book. I knew it had Emma Stone. My mom told me then and there what she thought of "black stories," which she didn't really like. They got too preachy for her, always painting blacks as the suffering saints, and I felt somewhat uncomfortable for the rest of the movie.
But my mom and I are not white. We're not, and carry the intermediary Asian-American status in the American story, which has often sounded like a long and complicated stream of black and white. I've had question marks about my own racial identity, to be sure, and one night, my father snapped, saying, You're not white, no matter how hard you try.
Granted, sometimes I think it'd be easier if I was white. I am still tied to a culture and identity that never called to me, and, it seems, never will. But as a person of thoughts and dreams that come in the abstract, I am often the quietest person in the room, in addition to being the only person of color in the room, and sometimes the traits get mixed up.
As these thoughts cycled in my head, I wondered if what I feared was hate. Recoiling from an explosive farce of a year of politics, I now find myself repelled by any opinion too deafeningly loud. Sometimes I don't know what to think. And I'm scared of becoming bitter, when there appears plenty of reason to be. Some of my "white" friends simply don't feel the weight and depression that settled on my shoulders as I watched, in my school cafeteria, the 45th president of the United States become sworn into office, a demagogue who openly disrespects women and people of color. My "minority" friends stormed the web, tweeting demographics, artwork, and biting one-liners that threw hate, horror, anger, fear, and deconstructed everything from celebrity tweets to the women's march on Washington. A few weeks ago, I was unpleasantly reminded of what little space I share in the American media, where in an icebreaker activity, I had to cite an actor or actress that would supposedly play me in real life. From the movies I watch, there was nobody.
And yet, as eloquently put by Martin Luther King Jr., I have decided to stick with love. Hate is too great a burden to bear.
Ebony, ivory, gold. We are each invaluable.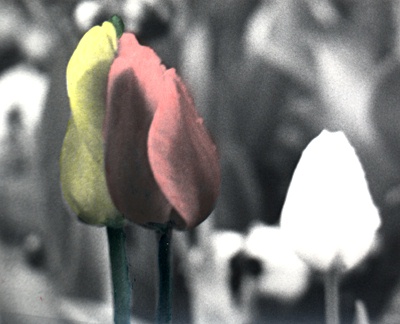 © Matt B.,Highland Village, TX