Contrast Two Movies
October 21, 2009
Deciding between two things is an everyday issue, and we usually end up making a decision upon what is the best offer or outcome for us. In this case we are considering the differences between two movies. Movies are both similar and different, but the majority of the time movies fall in the selection of fiction or non-fiction. Fiction movies bring out a sense of adventure and adrenaline rush. Non fiction movies make a bigger impact on us the viewers by making it a memorable film and causing a deep feeling of emotion in us. Here I will speak of two movies, one fiction and one non-fiction which make these movies different.

First, I will discuss the movie Friday Night Lights. The three aspects I'm going to discuss are setting, conflict, and resolution. This film takes place in Odessa, Texas 1988. The Permian football team of Odessa High School has always been a main contender to win the state championship title. Former players of Odessa and many fans in town pressure the team to have a successful season. However, this season they struggle to win because a first game injury to their star player. Breaking through barriers, somehow the Permian panthers manage to make it to the state championship. In the final, the panthers need a single yard to win the game, but thanks to the corrupt referees their attempt fails and they fall to Dallas Carter High School. After the game the fans support the Permian players after a huge defeat.

Next, I will discuss the movie Any Given Sunday. I will cover these three aspects, setting, conflict, and resolution. This film takes place in Miami, Florida 1999. The Miami Sharks professional football team is well recognized for their constant winning seasons. This season the sharks struggle to become a team, after their starting quarterback gets hurt. Their third-string quarterback becomes an upcoming star; he takes credit for every win, and this makes the team fall apart. This young star realizes his wrong doing and changes his attitude to lead his team past the playoffs. The Miami Sharks

These two movies are both of the same topic football, but the difference is the emotion they carry. Friday Night Lights develops a feeling of success, but also in the end it helps us picture a feeling of sadness; this movie persuades the readers in a better way because it's based on a true story. Any Given Sunday sows how selfishness works; going from being a no one to the best gives one all the power and causes destruction. Any Given Sunday persuades and informs us about how to be humble. Many movies are similar but as time passes technology advances and directors aim higher with their thoughts which cause different ideas amongst directors. The two directors of these movies had common interest but the outcomes of the movies were different.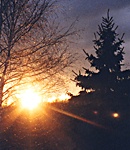 © Vhristy S., Germantown, NY