Audrey Hepburn in Today's Princesses
February 23, 2010
Over this past summer, my mom rented one of her favorite classics from the library. It was called "Roman Holiday," starring one of America's most beloved actresses, Audrey Hepburn. Even though it was an old movie in black and white, we still watched it too many times. The film was about a princess (Hepburn) who visits Rome for a political meeting. Tired of all the demands out of her to always follow royal duties, she daringly escapes her hotel/castle. She meets a hunky chunky newspaper writer (Peck: the same man who played Atticus Finch in TKMB) on the street. They spend a lovely day exploring Rome and develop a relationship that exceeds friendship. At first, Peck spends the day with her because he knew that she was THE Princess - he could entertain her and get answers out of her, to draft up a newspaper article. He could have made a lot of money. But, he became captivated by Audrey and fell in love with her. This desire to 'sell her cheap' dissolved, and he never wrote the article. Instead, he cherished the memory they made together in Rome. At the end of the film, I was drawn to Audrey's unique character and eloquence. Her being as a whole contrasts deeply with the ideal female image seen in of most girls today.

Presently in this generation, girls are often pressured to seem silly, fun, down-to-earth, wild, bubbly, and self-absorbed in order to seek the attention of others, especially of the opposite sex. Not all girls follow this image, but a majority do. Some change themselves to fit in this category, losing some of brightest aspects within themselves. Although not all of these traits above are bad, I believe that the role of females should be viewed in a different perspective.

Audrey Hepburn's femininity and character engages her audience in many ways. Starting with a career as a professional ballet dancer, she developed a form of grace rarely found in ordinary people. I always remember her grace, simply shown even in the way she walked and spoke. She is a figure of sophistication, decorum, politeness, respect, humbleness, and princess-ness. Directors chose her to play roles that reflected these traits. Male actors she participated in films with highly treasured their moments with her. They were careful with what they said in her presence and honored her. She was so well-respected that men were afraid of her. As a humanitarian and actress, people of Hepburn's time believed that she was one of the only perfectionists God has ever created. Humbly disagreeing with this, Audrey did experience rough moments in life. She went through divorce twice and died at the age of 63 from cancer.

No matter what Audrey's outer appearance looked like, the brightness in her character was never illuminated. She was appreciated, even in the plainest clothes. As a princess or as a commoner, she was seen the same. She was so good-natured that it'd be appropriate for her to be considered a real princess. Although she was pretty even in black and white films, who she was on the inside made the greatest mark. It's easy for women to imitate her "pixie haircut" or her dressing style, but it's difficult to mirror her character. Audrey Hepburn lived a worthy life, giving example to the world the way a woman should shape herself righteously. Her character ranked first, above all. Audrey's characteristic traits should be applied to every girl in this generation and in generations to come.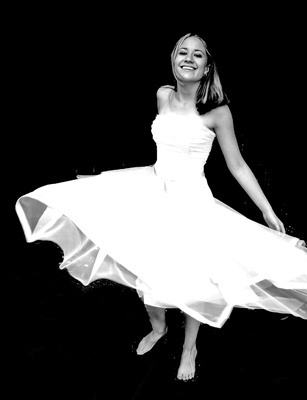 © Kara S., Walnut Creek, CA