THH: Hollywood's Pretty Regime
August 1, 2014
Want to get depressed over beauty? Google the "Met Gala 2014" and prepare to be bombasted by forceful allure. The sweeping suits, flawless façades, and surreal waistlines can send any normal human being into helpless tears.

Just about ever since 'Hollywood' became a thing, beauty has always been THE thing. Boromir himself can hop over here and tell you 'one does not simply look trashy to get it in the movie-mashing business.' (Believe me, he would know.) Size zero waist, thick glossy lips, thin-as-a-pin-thighs…you know the laundry list.

Because let's face it: if you are not Miss America worthy, you diminish your chances greatly of getting anywhere.

Going back to Google: search up 'Christina Aguilera,' and you'll see 3rd most popular tag is her weight. Her WEIGHT. Click on it, and you'll be flooded by alarmingly nosy "NOW and THEN" photos of the poor gal. Apparently that's more interesting than her make-it-or-break-it-role in

"Burlesque (2010)" and her glamorous presence on "The Voice."
And it's not just gal singers. Asa Butterfield ("Ender's Game"), Bradley Cooper ("Silver Linings Playbook"), Calvin Harris (Scottish DJ, singer, songwriter, behind the hit single "Summer"), Hugh Jackman (Wolveriiiiiine, people!) all have some version of 'shirtless,' 'body,' or 'workout' in the top five searches on Google Images.

Ahem, what about their mind-blowing movies, contributions to zeitgeist today? It's slightly shocking to see how flashy images and paunchy reassurances of perfection are so important to Googlers.

More people know about (and care about) Miley Cyrus due to her +100 million hits music video "Wrecking Ball." So it's also not a surprise why Vanity Fair decides on advertising "Sexiest Man/Woman Alive" to aspire to, and the fact reports of boob jobs and surgeries bump out the first page on "Us" and "People" Magazine.

This kind of stuff isn't just deeply disturbing; it also sends the wrong message. Your ideal actor/actress shouldn't be that person because of what they look like, or that they look breathless ripped and anorexic. We're basically prepping future generations with the wrong role model in mind to stalk: skinny as heck, rich, Instagram-filter-happy, and hooked up with a different boyfriend each week.

And it's not like Hollywood isn't aware. One of the latest new money around, spunky and enigmatic Jennifer Lawrence, comments, "In Hollywood, I'm obese. I'm considered a fat actress.

I eat like a caveman…I'm never going to starve myself for a part. I'm invincible. I don't want little girls to be like 'Oh, I want to look like Katniss, so I'm going to skip dinner!'"
You just made us even prouder, Girl on Fire. Actresses have made a point of graduating from college (often with full honors) to show they aren't just mindless, pretty little side effects: Emma Watson, Katie Chang. Demi Lovato is one of the loudest voices about strength, being confident in your own skin.

And Hollywood's biggest break, Marilyn Monroe, she herself has as said, "To all the girls that think you're fat because you're not a size zero, you're the beautiful one; it's society that's ugly." The outright 'sex symbol' from the '50s to the '60s, folks. Tons of astounding quotes, and she is remembered in history as a sweet and simple blonde bombshell.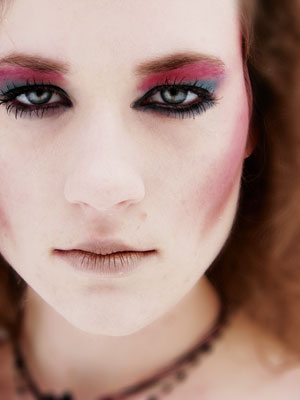 © Elizabeth H., San Bernardino, CA