What We Learn From Our Heartthrobs
February 7, 2015
Adolescence. A time where our hormones have decided to unleash and completely change our thinking, making all of us teenagers a little bit...crazy, one aspect of this craziness being the teen heartthrob.
The crush that explodes.
Posters are kissed. They are talked about endlessly. And whether you are screaming at a One Direction concert or praying to Heath Ledger's soul in heaven, we all will have a heartthrob.
These crushes can be brutal: embarrassing, silly, sweet and/or heart-wrenching. These feelings come in waves. Sometimes you forget about them completely, and at others, they hit you and you become devastated for the hundredth time. We can experience these emotions separately, or all at once. Adults look at these attractions as a stupid, cute little faze in our life that doesn't truly have an impact. I thought this too, until I fell head over heels for my first heartthrob, and I unknowingly seemed to benefit from it much more than I ever could have thought.
His name was River Phoenix.
My mom had mentioned him in conversation earlier. I was curious, so I looked him up.
She said that he was really cute, that when she was in high school, she had this major crush on him, just like everyone else during that time. I saw his picture, and even though he was very physically attractive, I couldn't understand why he had developed such a "heartthrob" status.
River Phoenix was a famous actor during the 80's and early 90's. He started acting as a child, first appearing in TV commercials and skyrocketing to fame with the Rob Reiner film, Stand By Me, a coming-of-age story about the friendship of four boys. He was fourteen when playing this role. His parents were flower children of the 60's and moved around a lot, so he had a very hectic, "hippy" home life. They were so free-spirited that they decided to name their other kids Joaquin, Rain, Liberty, Jodean Bottom and Summer. 
River Phoenix eventually died from a drug overdose in 1993. He was only twenty-three years old.
When you saw him on screen, no matter what movie he was in, you felt like he wasn't playing a character. It seemed like you were just seeing him, that there wasn't any contriving of the personality. And he always exhibited this sweetness, intensity, and vulnerability that is unmatched. He wasn't afraid to show his emotional side. That, I think, takes the most courage.
When I saw the movie Stand By Me, I experienced the same thrill and love for him as the millions of other people when watching him on screen.
There was one particular scene in the movie that sparked my love for him, and it was when, well, he started crying. He was sitting with his friend, telling him about how unfairly he was always treated due to his bad family reputation in the town, and he said "I just wish I could go somewhere where nobody knows me." He began to cry. Now, don't get me wrong, I'm not one of those girls who is attracted to guys that sob at the drop of a hat. But this is not the same. He had the ability to reach inside of himself, relate to the character, and express the inner pain he felt. With the male gender specifically, there seems to be this whole "macho" complex, that somehow, if you are a guy, and express any vulnerability, you are automatically less of a "man". He defied that stereotype.
From then on, I was hooked. I watch every movie, interview, and tribute towards him ever created until I memorize them. I rave about him on a daily basis, even though I know that no one understands why I feel this way about someone who died twenty-two years ago.
One night, I had just finished seeing my favorite movie, Running on Empty, one of his best roles. It was late, and I incessantly watched clips from this movie and different interviews of him promoting it.
And, all of a sudden, I was hit with a ton of bricks.
I cried because he shouldn't have died at such a young age. Most people in this world, let's face it, can be pretty terrible. He was special, and I know this because I could see his spark in everything that he did. His work was such an inspiration, and he touched so many people's lives just by being who he was. His death was a tragedy because he was one of the few truly beautiful people who could contribute something so wonderful and unique to society.
You could call my thoughts an obsession. I wouldn't blame you. There have been entire days where I have been completely depressed about his death, even though I didn't "know" him. But through this experience, my first official "heartthrob," I realized that I had taken away much more than I thought.
He inspired me to be a better person. To not be afraid to be sensitive, to say and show what I feel. To appreciate the life all around me. When I think of the person that I want to spend the rest of my life with someday, seeing his characteristics of compassion and sensitivity made me realize that I want that for my future partner and he showed me that it is possible. I learned to be passionate in whatever I do.
The heartthrob should not be labeled as "stupid" or "cute," because you can look at your crush, or maybe even the "idea" of your crush and use what they showed to the world as motivation to improve yourself.
Our heartthrobs help us experience emotional attachments, and, in a weird way, can provide companionship to us. One reason why River Phoenix was so talented is because when you watch him, you feel like he is talking to you. You feel like you know him, like he could be your best friend. He found some way to connect with every individual in his audience. This crush made me feel like there was someone out there who understood me, even if that is completely untrue and irrational.
I am grateful that I had the opportunity to see his work. I am grateful that I was able to feel such a connection with a person. I am grateful to have been able to "get to know him," and to witness all of the beautiful qualities that he displayed. If any of you have ever lost a heartthrob, you know how much it can hurt. But they can show you how to be thankful that you even "met" them in the first place.
Now, when I see those pictures, I see him. I see his depth, his seriousness, his unexpected sense of humor, his kindness and his sensitivity. I am grateful for his time on this Earth, even though it was short, because his work touched me in such a special way, as I know it did many other people. He was able to bring another light to the universe, one that I feel was needed.
Heartthrobs are not worthless. They don't need to be posters to kiss or the latest boy band that you scream at until your ears bleed. They can be examples, role models. They can teach us values. They can serve as an inspiration. They can help us grow. At first, I thought that my crush on River was stupid. Then I thought it was sad. Then, it turned into something meaningful. Our heartthrobs can be our angels.
Thank you, River. Now I know that I can do anything.
Just as long as you stand by me.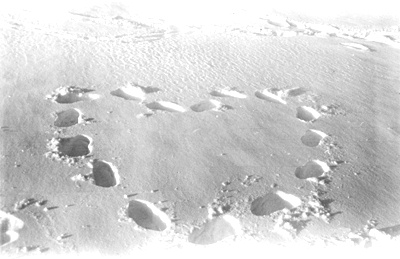 © Kim B., Marblehead, MA