THH: None of Your Beeswax
March 27, 2015
Taylor Swift's love life is none of your business.
It's doesn't matter if "Blank Space" or "Style" (or both) was dedicated to her affair with Harry Styles, either. If anything, that's their business—emphasis on the two-person possessive adjective. We don't need to dig up pictures of her breaking down. We don't need to find how tall she is, inch by inch, nor follow her every move. Find out what the inside of her house looks like. Dissect her middle name. Turn her high school secrets into Sunday night trivia.
Being a "Swiftie" does not entitle us to that.
And there is no exception. 
It doesn't get better with actor/actress fans, either. Google a famous name, and profession, birthplace, birthday, middle name, age, height, siblings, parents, upcoming events, education, and nationality pops up. ("Hey, sis, Pharrell is 41 years old!") Thanks but no thanks, Wikipedia; and it's terrifying how we've adapted to accept the information overload.
It helps us forget these are real people, as well.
Unfortunately, it's true. And real people are just about everything—they have intense emotions, flat periods, slow days, lost friends, just like you and me. Consider yourself, if you will: if you went global, how would you like every bit of you (from the hair on your legs to embarrassing mannerisms) be desiccated by the general public? A growing amount of sites aim at crude entertainment, one that often yields the fastest laugh they can get out of a cynical crowd. And what could possibly be juicier than dirt on people that really exist?
I have an answer: FICTION.
There is no shortage of quips, sketches, tidbits, and novellas of well-written, brilliantly developed characters out there for you to devour. There is no scandal too saucy to make the shelves. Bestsellers, local phenomenon, or just a good thick book is well within reach. Every genre. Every type of person imaginable. And if you still can't find what you're looking for, sit down and write it yourself.
Not the same thing? Some complain books only reveal so much—you are limited to what's on the page. There is no update; what is published in 2015 gets old in 2020. Surprisingly, there's a catch to that—books are truly timeless. Their settings may be set in past eras, but their stories can be lived again and again in any future. Dialogue, descriptions, and chapters launch you into an adventure that becomes yours. An overwhelming majority of authors also cleverly catapult your journey in twists, making for a far more worthwhile (and entertaining) read than any celeb-stalker site. 
Still don't believe me? There's another solution to celebrity hype. If you're hopelessly a visual person, cyber space is on your side. Mass social media sites like Twitter, Facebook, Instagram, or Snapchat allow you to virtually "follow" your favorite celebrities, filling your feed with what they post.
And the best part is, there's no prying here—you see what people choose to post, versus what inference is publicly forced upon them.
The message is clear; don't meddle with celebrity stalking or gossip if you wouldn't like that to be that person yourself. Said celebs have the public eye for their accomplishments, not their personal life, and observers like you and I all too often forget that. Luckily, the (better) alternatives are clear, and lie well within our reach.
Now if you'll excuse me, I have some 1989 to listen to.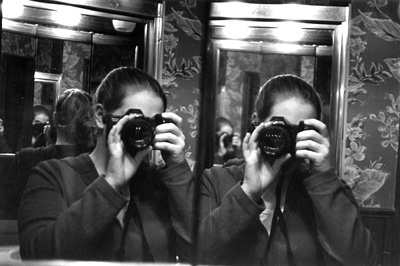 © Natalie D., Marblehead, MA