A Discovery of Happiness
June 19, 2015
Anyone who knows me knows that I love Heath Ledger, him being my second favorite actor only to River Phoenix. Movies influence me greatly, so when an actor stands out to me, I am intrigued. And when I saw 10 Things I Hate About You, a romantic comedy about a guy named Patrick Verona (Heath Ledger) who gets paid to date the meanest girl in school, Cat Stratford (Julia Stiles), I was instantly captivated. Everything from his wink and a smile to the sheer charisma that seemed to seep through his veins made me like this actor beyond the character he was playing. I could tell there was a great guy behind Patrick Verona.
There is no clearer way to say it: he sparkled.
The fact that he was so radiant makes it all the more painful that his life was cut short. Heath Ledger died at twenty-eight years old from a prescription drug overdose, supposedly resulting from playing the role of the Joker in The Dark Knight. He was a method actor, and playing this particular character caused lack of sleep and erratic behaviors. He had experienced drug problems and insomnia beforehand, but playing the Joker made both issues escalate. He locked himself in a hotel room for weeks on end, and would take drugs for anxiety and more for sleep, resulting in the eventual drug combination that led to his death.
I will forever be saddened by this tragic loss that the world has had to endure. Yet, on a journey to find video clips and interviews starring the incomparable Heath Ledger, I stumbled upon happiness.
In 2005, Heath Ledger was in the controversial movie Brokeback Mountain, about a secret love between two cowboys and the development of their relationship as their lives progress. Shortly after it was released, he and his co-stars appeared on Oprah for an interview. When watching this interview, I did not see the drug-addicted, falling-apart Heath that everyone always talked about; I saw a smiling, confident, and relaxed man who was glowing with happiness. Over banter among the cast, I discovered that Heath had supposedly fallen in love during filming. My first thoughts were: This is so Hollywood. They are generating publicity for this movie. But my opinion quickly changed.
At that time, Heath had recently become engaged to his co-star Michelle Williams. As the cast talked about their chemistry, the hidden glances that they first gave each other, and seeing the way he looked at her when she first walked into the room, I knew this was not a publicity stunt. Everything between them seemed truly genuine. He talked about how proud he was to be a new father to their baby Matilda, and would burst out comments such as "She's the best mum" during the interview. The love between them, while clearly not perfect, seemed to be real. But the one thing that I truly retained from watching this interaction was: Heath Ledger was happy. And I no longer was so sad.
One of the most depressing things about the death of River Phoenix was that he never really seemed to be happy at all. In watching his interviews, seeing the constant worry in his face, reading about his life, and all of the childhood trauma he experienced and addiction he faced as an adult, there never really seemed to be a time in his life where he was ever truly happy. But with Heath Ledger, I don't get as sad now, because there was a time in his life, however short it may have been, that he felt joy. And although he may have died young, he got to fall in love and be a father, and really build a great life for himself. Knowing that he got to have those experiences fills me with a sense of solace.
Deaths are sad; a life ends. But what people often forget is the experiences that person had in their life. And however short some lives are, if there was even a single part of them that radiated pure joy, it should give comfort to those that loved them that there was happiness to be found within this person.
Because happiness is what we all live for.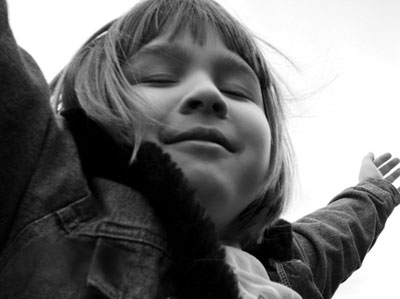 © Morgan C., Fridley, MN