The Sun Won't Shine Tomorrow
October 7, 2009
We watched night creep behind the shadow of the sun
But refused to warn her that her shift was complete.
We watched the moon rise from the east; to bound in the west
And saw the sun slide slowly toward the east

She cast her beautiful rays upon the sky
Leaving traces of orange and red in the clouds
We would miss her brilliant glow,
But we would see her shine again tomorrow

We can't always count for her to rise the next day.
Just like humans, tomorrow is never promised to her.

People think the sun just comes to work to sit in the sky
But this assumption is surely wrong

As she is forcing the warmth of her body upon the Earth
She is also watching...
Watching humans pollute the Earth
Watching humans commit acts of wicked crimes
Watching earthquakes tear homes and lives apart
Watching Tsunamis and Hurricanes flood the streets of humanity...
--claiming lives
Watching humans claim innocent lives
Watching global warming burst holes into the atmosphere

The Sun would watch us destroy the Earth
She would watch nature destroy us
The happiness she used to have on her job...
We watched it slowly creep away to the east
And never rise again.

Soon the sun will see no purpose to return to work tomorrow
We will watch, for the last time, as she creeps slowly toward the
East...
Leaving no traces of orange or red in the clouds
We would miss her brilliant glow,
But her shine will not be seen
Tomorrow.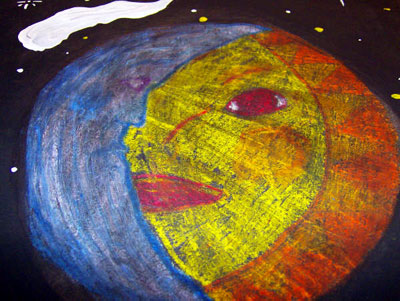 © Kimberly H., Summer Shade, KY