Global Warming
October 29, 2011
Ever thought why the weather is so hot? Are you melting like the ice bergs in Antarctica? In the last 100 years the earth's average surface temperature increased by about 0.8 °C. It sounds like a tiny change. But actually, it is a huge matter and has immense effects. Global average temperature increase leads to the rise in evaporation. The ice and lakes of some places are disappearing, such as the decreasing amount of snow of the Himalayas and the shrinking of Owens Lake of California. It also affects polar bears adversely. Polar bears are getting skinnier as they have to swim far enough to find a piece of ice to rest on. On the other hand, 40% of the world population relies on the drinking water from the snow mountains and ice. Quick melting of ice and snow mountains will lead the huge loss of drinking water. Is it us humans who created this tragedy or is it the nature to blame?
Some scientists from United States stated that global warming is not caused by humans but by nature itself. They have done research over several years and have discovered that the increasing of carbon dioxide has nothing to do with increasing of temperature over the past decades. However, I believe that is not true. According to the politician Al gore, he said that the layer of greenhouse gases are so thin like spray paint on the surface of the earth. Human beings definitely can do harm as emissions of carbon dioxide have already affected the composition of the atmosphere. Everyone in the world is concerned about global warming, countries have tried to do something to alleviate this problem. World leaders hold international meetings to try and make countries be held responsible for their past and future actions. They also need to state the amount that they will reduce their carbon emissions in percentage terms. These G20 summit meetings are costly and ineffective as countries refuse to be accountable and will not be tied to a percentage reduction.
The government has promoted the use of renewable energy, leadless gasoline, electric cars and catalytic converters these kinds of solutions to citizens. However, does it seem to be effective? Has the whole world changed yet?
In this case, no, global warming is still getting worse. Does it mean we should be walking every day? Does it mean we should turn off the lights all day and wait till the sun rise to give us light? Does it mean we should throw our iPhones away and save energy? Everyone knows that such non-sense is mission impossible. Now, here are some practical solutions provided by myself.
There can be various environmental themes which are fun and practical. For example, the government organizations organize game stalls in the shopping mall to promote saving energy and prevent the emission of green house gases, some quiz about global warming and some interactive games such as calculating energy used in a day. The basic way to change the serious situation of global warming is to start from education. Sticking it the school as a compulsory subject is not practical; instead we should make it fun. Game stalls are one of the suggested ways. Furthermore, there could be schemes that people can join in.
Many citizens are concerned about this global problem but in practical terms can start to take action locally in their individual countries. In Australia individual households have been encouraged to participate in the yearly use less energy scheme by turning off household lights for only one hour in the evening. Hong Kong and some other countries have also started this practice once or twice a year to encourage citizens to participate. Personally, I don't think that it was successful as many people go out on Saturday evenings and are not at home. Less than ten years ago one private company built a model home called Integer in Wan Chai, Hong Kong. My father worked as an Engineer on this project. This home made use of alternative sources of energy. It is a pity that many people did not know about this home perhaps due to its location or inadequate exposure. I think that for successful campaigns to educate members of the public that we need to have more competitions for example promote home of the future however encourage them to come up with ideas and designs.
We cannot change the world overnight. However we can put on our thinking caps and start to think about how we can take small steps in our individual countries to tackle this global problem, let's start in school, at work and at home in our elevated flats.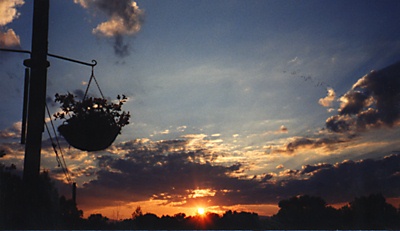 © Christy S., Germantown, NY